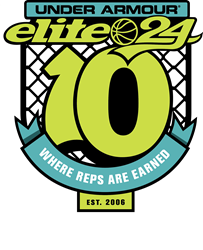 BALTIMORE, MD (PRWEB) August 17, 2015
Since the inaugural game at Harlem's Rucker Park in 2006, the country's best high school basketball players, regardless of class, have battled it out on Elite 24's iconic outdoor basketball courts to earn their reps. This year, Elite 24 celebrates its 10th anniversary with the game returning to the scenic Brooklyn Bridge Park Pier 2 on the East River on August 22.
The three-day basketball event will feature the annual Dunk and Three-Point contests, which will take place on Friday, August 21, and culminate in the 10th Annual Elite 24 Game, that will air live on ESPNU at 7:00pm ET on Saturday, August 22. This year's event will also feature the second annual "UA Next" game, which showcases the top rising freshmen from around the country and tips off at 4:00pm ET on August 22.
New for 2015, Under Armour and the NBA will host a Jr. NBA clinic for local Brooklyn youth with the Elite 24 players on Friday, August 21 at 5:00pm ET. In collaboration with Foot Locker, an experiential pop-up space celebrating 10 years of Elite 24 will be open at the Brooklyn Bridge Pier 2 courts on Friday and Saturday. The space will be free to the public and showcase the history of the game and Elite 24 10th Anniversary gear exclusive to Foot Locker.
"When this game was created 10 years ago, the idea was to give high school basketball players an opportunity to experience the energy and spirit of authentic playground basketball," said Kris Stone, Elite 24 Founder and Director of Basketball Sports Marketing, Under Armour. "The people who helped bring Elite 24 to life, the players who have gone on to college and the NBA, and the fans who come out and show their passion for the game every year all share in its continued legacy and contribution to the culture of basketball."
Over the past 10 years, 54 players from the game went on to be selected in the first round of the NBA Draft and four went on to be drafted number one overall. This year's game is again set to introduce the next crop of impact players to a worldwide basketball audience.
Attendance for the 10th Anniversary Under Armour Basketball Elite 24 is free and on a first come basis.
Rosters:
Team EZ Pass – Coaches: Jeff McInnis (Head Coach), Keith Gatlin (Wesleyan Christian HS, NC), Emmanuel Mudiay (Denver Nuggets), Bud Pollard (Thomas Jefferson HS, Brooklyn)
DeAndre Ayton 6'10 2017 Balboa City Bahamas
Justin Jackson 6'7 2016 Findlay Prep Toronto (CAN)
Troy Brown 6'5 2017 Centennial Las Vegas (NV)
Frank Jackson 6'4 2016 Lone Peak Highland (UT)
Hamidou Diallo 6'4 2017 Putnam Queens (NY)
Terrance Ferguson 6'6 2016 Prime Prep Dallas (TX)
Trevon Duval 6'3 2017 St. Benedict's Newark (DE)
Josh Jackson 6'7 2016 Prolific Prep Detroit (MI)
Thon Maker 7'0 2016 Orangeville Prep Australia
TJ Leaf 6'9 2016 Foothills El Cajon (CA)
Seventh Woods 6'2 2016 Hammond Columbia (SC)
Dewan Huell 6'10 2016 Norland Miami (FL)
Team Doo Be Doo – Coaches: Coach LJ Goolsby (Head Coach), Brandon Jennings (Detroit Pistons), TJ Ford, Kenny Pretlow (Lincoln HS, Brooklyn)
Udoka Azubuike 6'11 2016 Potter's House Christian Jacksonville (FL)
Mario Kegler 6'7 2016 Oak Hill Academy Jackson (MS)
Kobi Simmons 6'5 2016 St. Francis Alpharetta (GA)
Rawle Alkins 6'5 2016 Christ the King Middle Village (NY)
Shamorie Ponds 6'0 2016 Thomas Jefferson Brooklyn (NY)
Jalek Felton 6'3 2017 Mullins Mullins (SC)
Markelle Fultz 6'4 2016 DeMatha Catholic Hyattsville (MD)
Billy Preston 6'9 2017 Prime Prep Dallas (TX)
Wenyen Gabriel 6'9 2016 Wilbraham & Monson Manchester (NH)
MJ Walker 6'5 2017 Jonesboro Jonesboro (GA)
Bam Adebayo 6'8 2016 Northside Pinetown (NC)
Jarrett Allen 6'9 2016 Stephen's Episcopal Austin (TX)
For more information follow @UABasketball and to join the conversation use #E24X.
To request media credentials, contact elite24(at)underarmour(dot)com.
About Under Armour
Under Armour (NYSE: UA), the originator of performance footwear, apparel and equipment, revolutionized how athletes across the world dress. Designed to make all athletes better, the brand's innovative products are sold worldwide to athletes at all levels. The Under Armour Connected Fitness™ platform powers the world's largest digital health and fitness community through a suite of applications: UA Record, MapMyFitness, Endomondo and MyFitnessPal. The Under Armour global headquarters is in Baltimore, Maryland. For further information, please visit Under Armour's website at http://www.uabiz.com.