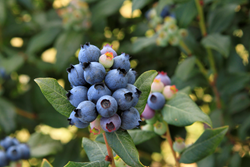 Lowell, OR (PRWEB) August 18, 2015
The trend toward healthy living is on the rise and it's making its way into the garden. Consumers want to grow their own food that not only tastes good, but also packs a nutritional punch.
Fall Creek Farm & Nursery, Inc., the world's leading blueberry nursery stock and genetics company, continues to introduce new berry varieties to its BrazelBerries Collection that consumers can enjoy right in their own backyard.
BrazelBerries Perpetua is a true double-cropping blueberry that will be unveiled at this summer's IGC show in Chicago, Aug. 18-20. Stop by booth #2017 to see this beauty up close and in person.
Consumers will enjoy one crop of small, mild and sweet berries in mid-summer and then again in the fall when it fruits again with a full second crop. Perpetua's attractive combination of dark green, glossy and curly leaves and flowers in the spring and summer make it a true stand-out in any garden. In winter, the leaves turn to deep red and green while the new canes become bright yellow and red.
As an ornamental beauty, Perpetua makes an excellent accent in the landscape. With an upright, vase-shaped habit that is compact and vigorous, it's best suited for zones 4-8.
The BrazelBerries Collection of berry shrubs is bred specifically for home gardeners. They are simple to grow, offer year-round beauty and produce delicious, abundant fruit. All BrazelBerries are self-pollinating, so only one bush is needed to produce fruit but additional blueberries nearby will generally increase production and sometimes berry size. Perpetua joins the other blueberries in the collection, Peach Sorbet, Jelly Bean, Blueberry Glaze and Pink Icing.
Initial quantities of Perpetua will be available in 2016 exclusively to independent garden centers through the BrazelBerries network of wholesale growers. Growers will offer retail-ready Perpetua plants in branded one-gallon or larger containers with an informative tag.
From its state-of-the art growing facilities in Oregon, Fall Creek Farm & Nursery specializes in the propagation, production and global distribution of blueberry nursery stock. Fall Creek works with the leading nursery stock growers and retailers to bring consumers the very best that blueberries offer.
For more information on Fall Creek's BrazelBerries Collection, visit http://www.brazelberries.com