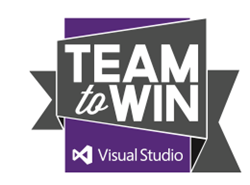 (PRWEB) August 18, 2015
Microsoft has presented its eighth installment of the 2015 Visual Studio Team to Win Award to PR1/Mathiasen Motorsports, following the team's impressive performance at Lime Rock Park. The award is given to the team best demonstrating teamwork during each 2015 TUDOR United SportsCar Championship or Continental Tire Sports Car Challenge race. PR1/Mathiasen Motorsports was one of four teams nominated for the award, and was declared the winner by the fan voting component of the contest.
Visual Studio, Microsoft's application development software, continues its involvement in motorsports after sponsoring the Grand-Am Rolex Sports Car Series event at Road Atlanta in 2013 and hosting the inaugural season of the Team to Win Award in 2014. The "Team to Win" theme that reflects the software's collaborative development focus has found a great analogy in the tremendous teamwork required of world-class sports car racing. After a successful debut in 2014, which saw 11 different winners claiming prize money, IMSA and Microsoft are excited to offer the award once again in 2015.
Visual Studio has also partnered with IMSA in the development of the new IMSA mobile application that was officially launched in May. The partnership and details about the new mobile platform are available here.
The Team to Win program includes a cash prize to be awarded to the leading vote getters following each event. The next set of nominees, chosen from the 2015 IMSA race weekend at Road America, demonstrated exceptional teamwork on one of North America's most famous circuits.
The nominees are:
1. Risi Competizione
2. RSR Racing
3. Doran Racing
4. Honda of America Racing Team
Fans can vote once per day through 12 p.m. ET Friday, August 21, 2015 at http://bit.ly/1S8SLxO. The winner will be announced at Virginia International Raceway this weekend. Details on the award and on each selected team can also be found at teamtowin.net.
About Microsoft:
Founded in 1975, Microsoft is the worldwide leader in software, services and solutions that help people and businesses realize their full potential.
About Microsoft Visual Studio:
Microsoft Visual Studio 2013 is an integrated solution that enables individuals and development teams of any size to turn their ideas into exceptional, compelling applications. It enables all stakeholders involved in software delivery to take advantage of state-of-the-art tooling to create outstanding experiences that delight end users with a simplified development solution that enables quality through all the tasks and roles involved in a software project. For more information, please visit http://www.microsoft.com/visualstudio.