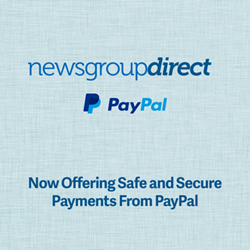 We're making it even easier for NewsgroupDirect customers to safely and securely pay for usenet access.
Greenville, SC (PRWEB) August 19, 2015
The addition of PayPal, the industry leader in online payments, gives NewsgroupDirect customers another option for paying for usenet access. NewsgroupDirect also accepts all major credit cards as well as European card payments through WorldPay.
To celebrate the addition of PayPal, NewsgroupDirect announced a special promotion to PayPal users. NewsgroupDirect is offering unlimited usenet access for just $7 per month (a lifetime rate). New customers can visit https://www.newsgroupdirect.com/paypal to learn more. The promotion ends September 5, 2015.
About NewsgroupDirect:
NewsgroupDirect, the world's best usenet company, has been providing premium usenet access since 2004. In addition to now having PayPal as a payment option, NewsgroupDirect customers enjoy the following features:
Access to over 110,000 uncensored usenet newsgroups
Unlimited data transfer
Unthrottled connections
Over 2,550 days of retention in all newsgroups
Discounts on Ghost Path VPN access
50 256-bit SSL-encrypted connections
Usenet servers in the US, the Netherlands, and Germany
For more information about NewsgroupDirect's usenet access visit NewsgroupDirect.com or contact support(at)newsgroupdirect(dot)com.