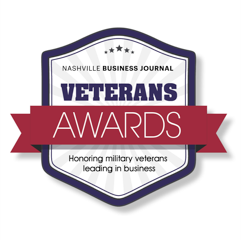 We are honored to work along side of Troy Mizell. We congratulate him on this award. He is not only a great American Veteran but a great person. James West, CEO MyGenetx
Franklin, TN (PRWEB) August 28, 2015
The Nashville Business Journal recently announced its list of recipients of the Veterans Award, honoring military veterans leading in business. Mr. Troy Mizell, Chairman of the Board at MyGenetx, is one of the 2015 honorees.
The inaugural Nashville Business Journal's 2015 Veterans Awards will recognize Nashville military veterans who, through their professional and personal efforts, are making a positive impact throughout the business community.
Winners will have made significant achievements in the past year. They will have strong records of innovation or outstanding performance in their work and be actively involved in the community.
Troy Mizell served his country in the US Army for nine years before becoming discharged due to disabilities. Troy is a founding member and treasurer of the National Veteran Small Business Coalition and is involved with many of his local community charitable organizations. He is devoted to the promotion and advancement of all service disabled veteran owned small businesses.
As Chairman of the Board at MyGenetx, Troy contributes to overall strategy and long-term missions.
MyGenetx is a molecular and general chemistry laboratory, providing timely and comprehensive test results. MyGenetx has a national footprint in the areas of Pharmacogenetics, Chronic Disease Management, Hereditary Cancer, Women's Health, Corporate Wellness, Endocrinology, and Oral Health. MyGenetx is committed to bringing affordable, accessible, and actionable laboratory testing to everyone. Our research and innovative ideas in genetic testing are at the forefront, allowing us to offer personalized medicine and specialized healthcare options, beyond the traditional standard of care.