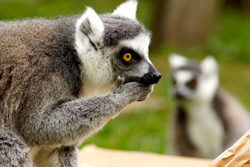 "I am so excited about these new enrichment devices and can't wait to see how the lemurs will interact with them," said Elizabeth Abram, Lead Keeper at Oakland Zoo.
Oakland, CA (PRWEB) August 18, 2015
Oakland Zoo is collaborating with Sonoma State University's Primate Ethology Research Lab to test smart feeder technology. The goal of the research project is to increase lemur activity and pique the interest of guests observing them.
"I'm really excited about this collaboration with Oakland Zoo. Because our smart feeders are battery powered, they do not require keeper presence to work, and promise to enhance the great work with enrichment that Oakland Zoo already engages in. My husband, David Jaffe, a former zookeeper and amateur woodworker, has already built the smart feeder prototype, and it works great! Now we just need funding to build the feeders that will go in the exhibit," said Dr. Karin Jaffe, professor of anthropology at Sonoma State University and director of the lab.
Eight smart feeder devices have been specially designed and will be built for the research project and funds raised via crowdfunding will finance the endeavor. The estimated cost to build all devices is $2,560. On August 18, 2015, the crowdfund will kick off on Experiment.com, which is a platform for funding scientific research. All projects through Experiment.com are rigorously reviewed by a team of researchers.
"When we found the Experiment.com site, I was really excited! Not only can crowdfunding support the building of our lemur smart feeders, but Experiment.com provides everyone, both donors and visitors to the site, with unprecedented information about scientific projects. In the case of our project, people who login to https://experiment.com/lemurs can learn about the basics of the project, see our budget, and read researcher biographies. Plus, we'll be posting Lab Notes every week during the month-long campaign, on topics ranging from enrichment and lemur behavior to biographies of the student researchers and the lemur keepers. People will really gain insight into why the project is so important to us," Dr. Jaffe said. "With the cut-backs in funding from local and federal granting agencies, I believe crowdfunding sites like Experiment.com are the future of funding for smaller research projects, like ours, and I'm excited that Oakland Zoo and the SSUPER Lab are on the cutting edge of this new type of funding."
Oakland Zoo's focus on maintaining and enhancing the psychological wellbeing of animals means zookeepers are trained to address the issue of reduced animal activity. Currently, zookeepers provide animals with the opportunity to make choices, engage in species-appropriate behaviors, and enhance their welfare through the Zoo's extensive enrichment program. The new smart feeders will further these goals by allowing enrichment to occur throughout the day, without human intervention, and in habitat locations difficult for zookeepers to access.
"I am so excited about these new enrichment devices and can't wait to see how the lemurs will interact with them," said Elizabeth Abram, Lead Keeper at Oakland Zoo. "The lemurs greet their Keepers at the door when they hear us coming, as they recognize the sound of our keys and the sound of doors to their area being opened. It will be interesting to observe how this behavior is altered once the feeding is not dependent on a Keeper being present. Will they regularly check the devices for food? Will random deliveries cause more activity as they check the devices around their exhibit? I look forward to the answers and know that it will be an adventure for the lemurs along with their Keepers and the folks from SSUPER Lab."
"As an intern in the Animal Care Department at Oakland Zoo, I was surrounded by staff dedicated and passionate about the animals in their care," said Penelope Wilson, SSUPER Lab student and former Oakland Zoo intern. "Their drive and enthusiasm inspired me to help obtain a greater understanding of the animals they care for. By partnering with Oakland Zoo, my research with the SSUPER Lab can help answer important questions about the animals, while assisting to create a more interesting and natural environment for them."
This experiment is important because in the wild, food is unpredictable, so animals must move constantly in search of it. In zoos, enrichment often aims to increase unpredictability but Keepers are usually involved in providing the enrichment at times based on their daily routine. Because SSUPER Lab's devices are automated, they will simulate a more natural environment by increasing the unpredictability of when food is available. Researchers are attempting to find an ideal balance between predictable disbursement (which can lead to boredom) and complete randomness (which can lead to stress).
"The welfare of animals depends on their ability to cope with environmental, physical, and mental challenges," said Darren Minier, Zoological Manager and Research Program Chair at Oakland Zoo. "At Oakland Zoo, we take this charge seriously, by being committed to providing the best quality of life for the animals under our care and addressing the animals' psychological needs with the same degree of thought, process, and goal-making used to address their physical needs. Our overall goal is to ensure the environments animals live in are engaging --allowing them to thrive, and we believe the collaboration with Sonoma State University is a great step in that direction."
After the installation of the smart feeders, there is an expectation that visitors will show higher interest in the lemurs by staying at the exhibit longer to watch them search for food. Studies have shown that zoo patrons will spend mere seconds at an exhibit if an animal is not visible and only ten to twenty seconds more in front of an exhibit if an animal is active. By engaging the lemurs in their environment, SSUPER Lab and Oakland Zoo hope to better understand the link between animal activities and guest engagement. The crowdfunding campaign will be active from August 18-September 17, 2015, and the research project itself will continue through March 30, 2016. Those more curious about the project may also follow the endeavor on twitter @researchOZlemur. Upon completion of the experiment, Oakland Zoo will have the opportunity to purchase the feeding devices from SSUPER Lab.
ABOUT OAKLAND ZOO:
The Bay Area's award-winning Oakland Zoo is home to more than 660 native and exotic animals. The Zoo offers many educational programs and kid's activities perfect for science field trips, family day trips and exciting birthday parties. Oakland Zoo is dedicated to wildlife conservation onsite and worldwide. Nestled in the Oakland Hills, in 500-acre Knowland Park, the Zoo is located at 9777 Golf Links Road, off Highway 580. The East Bay Zoological Society (Oakland Zoo) is a nonprofit 501(c)3 organization supported in part by members, contributions, the City of Oakland and the East Bay Regional Parks.
ABOUT SONOMA STATE UNIVERSITY'S PRIMATE ETHOLOGY RESEARCH LAB:
The Sonoma State University Primate Ethology Research Lab is run by Dr. Karin Jaffe, professor of anthropology, and strives to involve Sonoma State graduate and undergraduate students in a variety of behavioral research projects at Bay Area zoos and animal preserves. The lab's mission is to help zoos better understand the behavior of their animals and enhance their welfare while providing affordable and accessible research opportunities for Sonoma State University students.
###