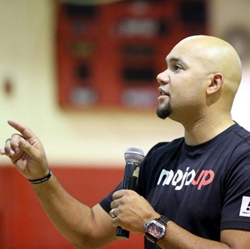 Bullying doesn't go away because it's a new school year.
Indianapolis, IN (PRWEB) August 18, 2015
One in three students in the U.S. report they have been bullied at school. With the start of a new school year quickly approaching, many students will face the harmful effects of bullying, including increased school violence, poor attendance, lower test scores, higher levels of drug and alcohol use, self-harm and suicide.
"Mr. Mojo" Travis Brown, America's anti-bullying coach, travels to schools across the U.S. to help students, teachers and administrators implement hands-on strategies to eliminate bullying. His Mojo Up Anti-Bullying Program has been adopted by hundreds of K-12 schools nationwide and has touched more than one million students.
To kick off the new school year, Mr. Mojo has five proven anti-bullying tips every student, parent, teacher and administrator should know and use this year:
1. Know and understand state bullying laws. Most states have specific legislation regarding bullying, harassment and/or safe school policies. Schools can utilize state laws to enact anti-bullying policies and properly conduct reporting and investigation procedures.
2. Share your story. When students, parents, teachers and administrators share their experiences with bullying, everyone can work together to understand its harmful effects and how to prevent future instances.
3. Don't assume someone else will step up. Bystanders can be positive role models by taking initiative to stop bullying when they see it and by reporting it to appropriate authorities.
4. Remember online or cyber bullying can easily go undetected. Knowing the warning signs for cyber bullying can help adults and students detect it and stop it before it causes harm. Rules regarding appropriate use of technology must be enforced by parents and school officials.
5. Make sure your school has an anti-bullying program and/or policies in place. If it does not, there are multiple online and on-campus resources available to help you get started.
"Bullying doesn't go away because it's a new school year," Mr. Mojo said. "When a student is being bullied, school is a frightening place. With these tips, students, parents and school staff can work together to make our schools safer so students can learn."
This school year, Mr. Mojo is traveling the country to deliver speaking and consulting sessions to hundreds of schools. In addition to speaking engagements, which can be booked online, Mr. Mojo offers an anti-bulling online certification program for schools and districts to educate students, parents, teachers and administrators on how to prevent bullying.
To learn more about Mr. Mojo, the Mojo Up Anti-Bullying Program or to book Mr. Mojo for a speaking engagement and to work towards eliminating bullying in your school, visit mojoup.com.
About "Mr. Mojo" Travis Brown
"Mr. Mojo" Travis Brown is America's Anti-Bullying coach. As part of his mission to inspire youth, educators, parents and communities to fight the social epidemic of bullying, Mr. Mojo has delivered more than 2,000 hours of powerful anti-bullying presentations to close to one million students in the U.S. and abroad. Nicknamed for his contagious energy and captivating speaking style, professional athletes and sports teams also rely on Mr. Mojo for his motivational coaching expertise. Travis is also the accomplished author of "Mojo Up Leadership for Teens," "Mojo Up & Stop Bullying," "The Ultimate Anti-Bullying Guide for Parents" and is the creator of the Mojo Up Anti-Bullying Prevention Program. Travis has been seen on FOX, NBC, CBS, CNN, MSNBC, and as an Inspiring Made Coach on MTV. For more information visit, mojoup.com, and follow @MojoUp on Twitter and Facebook.