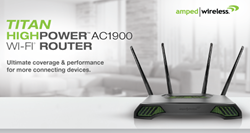 Chino Hills, CA (PRWEB) August 18, 2015
Amped Wireless, the leading manufacturer of high power, long range wireless solutions for the home and office, today announced that its new flagship TITAN HighPower™ AC1900 Wi-Fi® Router is now available. Designed to meet the needs of demanding, multiple device households, the TITAN provides enough horsepower to easily manage music downloads, video chats, 4K content streaming and gaming all at the same time for everyone. Featuring unique, 4-Antenna Rx Technology to provide reliable, stable connections, the TITAN also features the latest high power technology for ultimate Wi-Fi coverage throughout a home or office.
The TITAN, powered by a 1GHz Dual-Core Processor, is capable of handling the most demanding network traffic. To achieve unmatched Wi-Fi coverage, the TITAN features four high gain, 5dBi, dual band antennas, and 14 total amplifiers (3 x 2.4GHz transmitting amplifiers, 4 x 2.4GHz receiving amplifiers, 3 x 5GHz transmitting amplifiers, 4 x 5GHz receiving amplifiers). One of Amped's fastest routers yet, it reaches a total combined speed of up to 1900Mbps (5GHz up to 1300Mbps and 2.4GHz up to 600Mbps). By harnessing this much power in one router, Amped Wireless has made it possible for the TITAN to push Wi-Fi signals through walls, ceilings, floors and other obstructions into many areas where standard routers cannot reach.
Additionally, the Router features unique 4 Antenna-Rx Technology to boost range, connection stability and overall coverage. This unique combination of 3 transmitters with 4 receivers and 4 antennas per frequency is what makes up the 4 Antenna-Rx Technology. This allows the Router to create strong connections by boosting its Wi-Fi receiving capabilities with low power devices such as smartphones and tablets to create a more reliable, longer range connection. Amped Wireless' High Power Technology and 4 Antenna-Rx Technology blankets a home or office with multiple Wi-Fi streams for superior performance and range compared to standard AC1900 Wi-Fi routers.
The AC1900 Router is equipped with two USB ports, including a USB 3.0 port, for file sharing and five gigabit wired ports for attaching additional wired devices and connecting to a modem. The TITAN includes an updated user interface, premium software features such as guest networks, adjustable Wi-Fi coverage controls, parental security and advanced prioritization rules for Wi-Fi networks or individual connected devices.
"As every user in your home connects to the network and begins to demand bandwidth from the Router, the typical network can slow and drop connections. The TITAN is built with enough power and bandwidth to handle a busy network with ease," said Lacey Limbrick, Brand/Marketing Manager at Amped Wireless. "It is capable of enabling everyone to browse, game, stream and enjoy the Internet all at once, without delay or interruption. And it is built with our signature High Power components, so users can connect throughout the whole home."
The TITAN HighPower™ AC1900 Wi-Fi Router is now available to order. Visit http://www.ampedwireless.com/products/rta1900.html to order yours today.
About Amped Wireless
Amped Wireless is an award-winning provider of long-range, wireless consumer and business communication products for the home and office. Ranked 16th in the 2013 Inc. 500 and 1st in the Computer Hardware Industry, Amped Wireless' mission is to develop the highest quality, long range wireless products through experience, passion, innovation and advanced technology that exceed customers' needs and expectations. For more information on Amped Wireless, The Leader in High Power Wireless Solutions™, please visit the Amped Wireless website at http://www.ampedwireless.com.