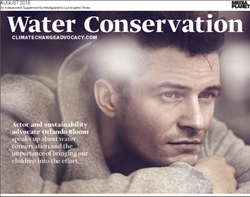 "By engaging [my son] in dialogue and making conservation part of his daily routine—such as turning the water off while he is brushing his teeth—we are encouraging him to be part of the solution."
New York, NY (PRWEB) August 29, 2015
Mediaplanet today announces distribution of its latest cross-platform campaign, "Water Conservation," encouraging and inspiring readers to conserve water in their daily lives. Simple adjustments within the home and garden will save millions of gallons of our most precious resource.
The print component of "Water Conservation" is distributed within the August 29th edition of the Los Angeles Times, with a circulation of approximately 455,000 copies and an estimated readership of 1.4 million. The digital component is distributed nationally through a vast social media strategy and across a network of top news sites and partner outlets. To explore the digital version of the campaign, click here.
In an exclusive interview with sustainability advocate Orlando Bloom, readers are urged to put conservation practices into place in their own lives and teach our children the need to save water. Bloom stresses, "By engaging [my son] in dialogue and making conservation part of his daily routine—such as turning the water off while he is brushing his teeth—we are encouraging him to be part of the solution."
This campaign was made possible with the support of Orlando Bloom, the California Department of Water Resources, the Environmental Protection Agency, the California Urban Water Conservation Council, Itron, Driscoll's, the Almond Board of California, Kohler, Renovate America, Rain Bird, H2Show, chef Nathan Lyon and Sarah Forman, Value of Water Coalition, SaveOurWater.com and many more.
About Mediaplanet
Mediaplanet is the leading independent publisher of content-marketing campaigns covering a variety of topics and industries. We turn consumer interest into action by providing readers with motivational editorial, pairing it with relevant advertisers and distributing it within top newspapers and online platforms around the world.