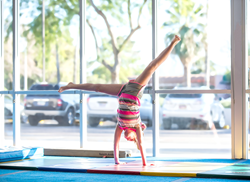 (PRWEB) August 22, 2015
A New Season at The Little Gym brings new friendships, new fun and new skills to achieve. But it's so much more than fun and games. Research shows that there is a direct relationship between physical skill development and academic success. But according to a recent study published in the journal Pediatrics, preschool aged children only get on average, 48 minutes of physical activity per-day, which is below the CDC's recommendation of at least one hour. Physical activity has been proven to provide children with countless benefits including increased confidence, self-esteem and mental functioning which helps children grow into well-rounded super kids.
The best way to encourage children to get and stay active is to show them that physical activity is fun. Programs at The Little Gym are designed to help children develop a love for physical activity through age appropriate games and activities that promote ongoing skill development and maximum fun. The transferable traits children develop at The Little Gym will have an immediate impact in the classroom, on sports teams, and as they grow into young adults. A new Season at The Little Gym is starting soon. Find your local gym by visiting http://www.thelittlegym.com.