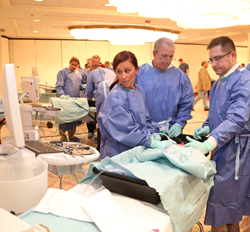 AMP gives physicians the opportunity to share strategies with the very best minds in this field, embrace innovation, and learn about the vital role emerging therapies play in preventing amputations.
Malvern, PA (PRWEB) August 19, 2015
Nearly 800 participants from 19 countries - those involved with peripheral vascular interventions: vascular and general surgeons, interventional and general cardiologists, primary care physicians, interventional radiologists, podiatrists, wound care specialists, nurses, and allied vascular and cardiac cath technologists ⎯ gathered in Chicago, August 12-15, to interact with the world's most respected leaders and pioneers in critical limb ischemia therapy and gain knowledge and strategies to help prevent lower limb amputations in patients.
As the nation's only medical conference focused on preventing lower limb amputation in patients with CLI, the Amputation Prevention Symposium (AMP) featured access to leading CLI experts, four days of high-level education, hands-on workshops and an exhibit hall with 40 companies showcasing a variety of emerging tools and technologies designed to aid in limb salvage.
Saving limbs is the number one priority
Critical limb ischemia (CLI) is a serious form of peripheral vascular disease, caused by severe blockage in the arteries of the lower extremities, which markedly reduces blood flow and often leads to amputation. Amputations due to complications of the vascular system continue to increase, particularly given factors such as diabetes, obesity and an aging population. Nearly half of the individuals who have an amputation due to vascular disease will die within 5 years - a mortality rate that is higher than the five-year rates for breast cancer, colon cancer and prostate cancer.1 And among diabetic patients who have a lower-extremity amputation, up to 55% will require amputation of the second leg within 2‐3 years.2
Six years ago, AMP Symposium founder Jihad A. Mustapha, MD, FACC, FSCAI, Interventional Cardiology, Metro Heart & Vascular, Metro Health Hospital, Wyoming, Michigan, saw an unmet need for education and technologies to address this critical health issue, leading him to establish the annual gathering. "AMP gives physicians the opportunity to share strategies with the very best minds in this field, embrace innovation, and learn about the vital role emerging therapies play in preventing amputations." He added, "It has become my personal mission to see amputations due to CLI drastically reduced across this country and across the world. I want every physician focused on techniques to save limbs, because we hold the utmost responsibility to care for patients with this very serious disease and help improve and extend their lives."
Game-Changing Education
Conference education highlights included contributions from faculty:
-Leading physicians performed live cases via video-stream during breakfast and lunch symposia, as expert faculty panels offered discussion and exchange.
-Thomas Zeller, MD, interventional cardiologist and director of the department of angiology at Universitaets-Herzzentrum Freiburg-Bad Krozingen, Germany, and AMP course co-director, shared a global perspective on the latest advances, devices and therapies for critical limb ischemia in his keynote, "Historical Perspective on the Evolution of DCB Therapy: Is the DCB the Holy Grail for CLI Therapy?"
-CLI thought leaders including Jihad A. Mustapha, MD, FACC, FSCAI; George Adams, MD, Interventional Cardiology, Rex Healthcare and University of North Carolina Health Systems, Garner, North Carolina; Thomas Davis, MD, Interventional Cardiology, St. John Hospital and Medical Center, St. Clair Shores, Michigan; Lawrence Garcia, MD, Interventional Cardiology, St. Elizabeth's Medical Center, Boston; and Michael R. Jaff, DO, Vascular Medicine, Massachusetts General Hospital, Mass General Hospital, Boston, provided insight into emerging therapies and devices.
-Krishna J. Rocha Singh, MD, Interventional Cardiology, Prairie Vascular Institute, Springfield, Illinois, presented data on SFA-popliteal endovascular revascularization.
Cadaveric Lab Offers Hands-On Experience
This year's conference also gave attendees the ability to practice techniques on cadaveric models using a range of tools from atherectomy to tibial access ultrasound devices. Robert Vorhies, MD, a board certified vascular and endovascular surgeon with Cox Health Systems, Springfield, Missouri, and AMP faculty member observed, "The cadaver lab is a phenomenal opportunity for attendees to improve their abilities without placing their patients at risk while they learn. It gives them the ability to focus completely on techniques without the pressures of clinical practice - time constraints, patient comfort, staff scrutiny, sedation management and so on." He added, "It also gives the attendee confidence to implement this technique into their practice on day one when they return home."
Clinicians appreciated the practice. Prateek Sahgal, MD, an attendee and interventional cardiologist with Hennepin County Medical Center, Minneapolis, Minnesota commented, "It's always nice to get different opinions on cases, and I can't imagine a better model to try out techniques without hurting patients."
A winning combination
Another unique aspect of the AMP program is the interaction between clinicians and exhibiting companies.
"This show is always at the top of our list to exhibit in because of the engagement that you get here that you simply don't get at other events," shared Josh Hagerman, Director of Marketing, Peripheral, Terumo Interventional Systems, Somerset, New Jersey. "AMP is planned in such a way that it encourages interaction between clinicians and exhibitors. So rather than just having us as an accessory to the event, we are integrated and involved throughout the program."
Brian Reinkensmeyer, Peripheral Account Executive, Bard Peripheral Vascular, Tempe, Arizona noted, "This is our fifth year exhibiting at AMP ⎯ we have been with AMP since its inception and have witnessed the impressive growth of the event. Simply put, Bard shares the vision of AMP ⎯ to prevent unnecessary amputations. The AMP educational program is phenomenal and the audience that is here is focused on and dedicated to limb salvage and CLI amputation prevention. This is a great platform to share information and spend time with customers who have the same passion we do. We're all here today because Dr. Mustapha had the vision to create the AMP Symposium, and the conference is a winner for everyone involved ⎯ especially the patients we can help."
Next year's AMP Symposium will be held August 10-13, 2016 in Chicago. For more information, visit: http://www.amptheclimeeting.com.
ABOUT THE AMPUTATION PREVENTION SYMPOSIUM (AMP)
In its fifth year, the Amputation Prevention Symposium, established by Jihad A. Mustapha, MD, FACC, FCSAI, was created to address the unmet need for education and technologies for treating critical limb ischemia in patients facing amputation. The conference features world-renowned faculty, live case symposia, hands-on workshops and an exhibit featuring the very latest products and technologies designed to assist in amputation prevention. For more information, visit: http://www.amptheclimeeting.com.
ABOUT HMP COMMUNICATIONS HOLDINGS, LLC
The Amputation Prevention Symposium is operated by HMP Communications Holdings, LLC (HMP), a collaborative formed by HMP Communications, LLC and North American Center for Continuing Medical Education, LLC (NACCME), is a leader and innovator in healthcare communications. The company produces some of the industry's most well respected journals, multimedia, live events and accredited continuing education (CE) programs. HMP distributes award-winning content across a wide spectrum of healthcare audiences who can access its brands anywhere, everywhere, at any time. For more information, visit http://www.hmpholdings.com.
1. Robbins JM, Strauss G, Aron D, Long J, Kuba J, Kaplan Y. Mortality Rates and Diabetic Foot Ulcers. Journal of the American Podiatric Medical Association 2008 November 1, 2008; 98(6):489‐93.
2. Pandian G, Hamid F, Hammond M. Rehabilitation of the Patient with Peripheral Vascular Disease and Diabetic Foot Problems. In: DeLisa JA, Gans BM, editors. Philadelphia: Lippincott‐Raven; 1998.
Tags: Critical limb ischemia, peripheral vascular disease, amputation prevention, vascular, endovascular, interventional radiology, interventional cardiology, podiatry, wound care