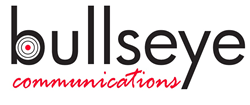 Bullseye Communications has added another credential to the mix
(PRWEB) August 18, 2015
Washington, D.C.-based Bullseye Communications, a firm that has been recognized as one of the top growing PR firms in the Marketing Communications industry, has added another credential to their mix. President Karen Hansen has been voted to Los Angeles-based Television Publicity Executives Committee (TPEC).
TPEC includes senior-level publicity executives who represent original, prime time television programing and serves as a forum for the discussion of publicity-related matters common to entertainment executives.
Boasting an impressive roster of clientele in the entertainment, media, travel and television arenas, the Bullseye Communications team works on major national brands, launching networks and products, and provides sound, strategic counsel to earn the highest level media placements.
Respected by her peers, Hansen has been interviewed by several entrepreneur-focused publications sharing advice, experience and encouragement with her colleagues. With a synthesis of brand management, consumer media relations and industry visibility, she believes public relations is the cornerstone for any company's success.
About Bullseye Communications
Bullseye Communications is a full service Public Relations agency offering traditional and digital media relations, talent relations, event management, press material creation, media junkets, media training and messaging and social media management. The company is rooted in the philosophy of serving a direct extension of internal teams and a true partner on priorities. The team has representation across the industry in organizations such as Entertainment Publicist Professional Society (EPPS), Association of Cable Communicators (ACC), Public Relations Society of America (PRSA), National Academy of Television Arts & Sciences (NATAS), and Women in Cable and Telecommunications, Inc. (WICT) and Television Publicity Executives Committee (TPEC). More about Bullseye Communications at http://www.bullseyecomm.com