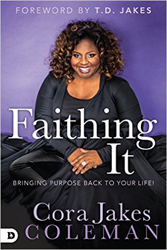 Destiny Image announces an exclusive pre-signing event with author Cora Jakes Coleman at MegaFest 2015.
Dallas, TX (PRWEB) August 19, 2015
Destiny Image is attending MegaFest 2015 in Dallas, Texas. They are pleased to announce an exclusive pre-signing event with one of their authors.
Blogger and author Cora Jakes Coleman will be speaking at MegaFest at 11 a.m. on August 21st at the Dallas Convention Center. She will share the biblical tools that she learned to use in her "faith fight" and what others can learn from her experiences. Attendees will also have the opportunity to attend an exclusive pre-signing of her book "Faithing It" at 2:30 p.m. Aug. 20 at booth 833-835. In "Faithing It" Coleman discusses her battle with infertility and the peace that God instilled in her, despite personal setbacks. This exclusive pre-signing event is hosted by Destiny Image.
From her initial success with her blog, Fertility Faith, Coleman has brought to light issues that traditionally plagued women. By bringing these topics to light, Coleman encourages conversation, awareness, hope and healing. At the signing, Coleman will share from her book "Faithing It – Bringing Purpose Back to your Life".
For more information stop by the Destiny Image booth at 833-835 during MegaFest 2015 at the Dallas Convention Center.