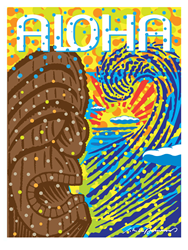 "This is a once in a lifetime opportunity and we look forward to sharing this event with every surfer in America," said Paul Strauch. "See you in Washington on Friday, August 21."
San Clemente, CA (PRWEB) August 19, 2015
As surfers from across the globe gather next week in Washington DC for the Surfing Heritage and Culture Center's National Luau, major media reports have begun to outline exactly what participants can expect.
"I was honored to speak to NBC 4 News in Los Angeles about all of the history of surfing that is being brought to be shared with nation on August 21, starting with the National Luau," said Paul Strauch, Executive Director of the Surfing Heritage and Culture Center and recent inductee to the Surfing Walk of Fame. "From the moment the Luau starts it will be an incredible thrill to see how surfing culture has become a big part of American culture."
The National Luau will draw together surfers from two continents and across the United States to pay tribute to the great moments in the development of surf culture, from Duke Kahanamoku's goodwill tours and Olympic triumphs and will include a rollicking question and answer session with the original cast of the The Endless Summer landmark documentary film.
"Once the invitation to the Luau went out, we have received hundreds of requests to participate and join in the fun," explained Paul Strauch. "Getting major media coverage helped us spread the word quickly, and we are looking forward to an incredible time in Washington."
Earlier this summer, KNBC Channel 4 News in Los Angeles, CA did a feature report on all of the surfing artifacts, including a surfboard hand shaped and ridden by Duke Kahanamoku, a 16 mm original print of The Endless Summer, along with memorabilia from the film and other artifacts that will be shared with the nation during the weekend.
For more information on the KNBC Channel 4 News report, go to http://www.nbclosangeles.com/entertainment/the-scene/OC-to-DC-Surfing-Artifacts-Head-for-the-Smithsonian-307889911.html
"This is a once in a lifetime opportunity and we look forward to sharing this event with every surfer in America," said Paul Strauch. "See you in Washington on Friday, August 21."
About Surfing Heritage & Culture Center
Founded in 2000 the Surfing Heritage is a non-profit organization dedicated to preserving, presenting and promoting surfing's heritage for the appreciation and education of current and future generations. SHACC serves as the world's foremost educational and support resource for surfing publications, manufacturers, and museums. Surfing Heritage is a 501 (c) 3 non-profit. For more information go to http://www.surfingheritage.org