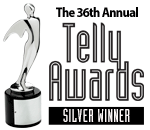 ATLANTA, Ga. (PRWEB) August 20, 2015
Professional Photographers of America (PPA)'s See The Difference videos were named a Silver Winner at the 36th annual Telly Awards. The videos, made for PPA by Radiant3, a video production company in Atlanta, earned the Telly's highest honor in the Online Commercial Campaign, Promotional/Branding category.
PPA launched a marketing campaign called See The Difference in 2010 to help consumers become aware of the value and impact of professional photography in their lives. The goal of the campaign is to help consumers "see the difference" when they evaluate photographers and realize the importance of hiring a pro. As part of the portfolio of resources that PPA created for photographers, downloadable videos, logos, customizable brochures, special landing pages, tips & FAQs and other marketing materials are there to inform and educate photography clients.
The Telly Awards was founded in 1979 and is the premier award honoring outstanding local, regional, and cable TV commercials and programs, the finest video and film productions, and online commercials, video and films. Winners represent the best work of the most respected advertising agencies, production companies, television stations, cable operators, and corporate video departments in the world.
A prestigious judging panel of over 500 accomplished industry professionals, each a past winner of a Silver Telly and a member of The Silver Telly Council, judged the competition, upholding the historical standard of excellence that Telly represents. The Silver Council evaluated entries to recognize distinction in creative work – entries do not compete against each other – rather entries are judged against a high standard of merit. Less than 10% of entries are chosen as winners of the Silver Telly.
Winners were chosen from nearly 12,000 entries from all 50 states and numerous countries, with big names like Dell, AT&T, Disney, Coke, and more alongside PPA.
Watch PPA's award-winning videos here. To tap into all of PPA's See The Difference marketing materials, consider joining PPA at PPA.com/Join.
About PPA:
Professional Photographers of America (PPA) is the largest international nonprofit association created by professional photographers, for professional photographers. Almost as long-lived as photography itself, PPA's roots date back to 1869. It assists more than 28,000 members through protection, education and resources for their continued success. See how PPA helps photographers be more at PPA.com.