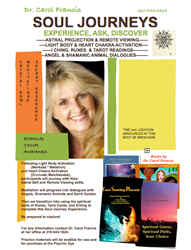 Transforming Your Life can extend from increasing tools which help you influence situations, people, molecules and yourself out of compassion and respect using tools of hypnosis and meditation. Dr. Carol Francis
Anaheim, CA (PRWEB) August 20, 2015
Have transforming experiences and enhance psychic skills which change life using these specific hypnotic and meditation tools taught by Clinical Psychologist Dr. Carol Francis on September 7, in Anaheim, CA. Dr. Carol Francis leads this active, experiential workshop at 1786 N. Pheasant St. Anaheim, CA from 7-9 PM, Sept 7, 2015. RSVP through Anaheim IHF leader Phil La Puma at this link: http://www.meetup.com/Anaheim-Hypnosis-Meetup-Group-IHF-Hypnosis-Practice-Group/events/224746674/. Or register by contacting Dr. Carol Francis at 310-543-1824 or drcarolfrancis.com. For distance video or access, please use the above contacts too.
Dr. Carol Francis explains this workshop, "Hypnosis and meditation enhance the process related to impacting life events and enhancing psychic skills, remote viewing and astral journeys. These tools are fun, full of curiosities as well as startling transformations. Imagine, right now, using soulful journeys to influence people, situations, and molecules for the better. During this active workshop, everyone practices tools which help participants use remote viewing, astral projection, shamanic journeying, prayer, self-hypnosis, brainwave control and meditation. Come, be amazed at these tools which increase your power to help and impact you and the cosmos around you."
About the Venue and Sponsoring Organization:
Phil La Puma, Master Hypnotherapist and the leader of the Anaheim Hypnosis Monthly Practice Group, organizes training opportunities for anyone wishing to learn the helpful skills of hypnosis and hypnotherapy. The Anaheim Hypnosis Meetup Group organizes with IHF to assure quality and intrigue of such workshops. International Hypnosis Federation trains hypnotherapists and organizes educational opportunities for hypnosis practitioners around the world. For future workshops, find the subjects at http://www.meetup.com/Anaheim-Hypnosis-Meetup-Group-IHF-Hypnosis-Practice-Group/events/224746674/.
Past subjects covered at the Anaheim Hypnosis Meetup Group include Stop Smoking, Overcoming Fear of the Failing Economy, Joy Therapy, Rapid Inductions, Remote Healing and Viewing, Numerology. Future Topics include Hypnosis and Cancer, Power Learning and Test Taking, Overcoming Fear and Anxiety, The Ideal First Session, Self Healing and Self Marketing.
About Dr. Carol Francis, Presenter and Author
As a Clinical Psychologist, Marriage, Family & Child Therapist, Certified Medical Hypnotherapist and researcher of spiritual or nonphysical psychological phenomenon for almost 4 decades, Dr. Carol Francis weaves empirical research in various fields of psychology, neurology, and biology with many practical life-enhancing skills. This workshop reflects a portion of her research which is also presented in her books, Your Soaring Phoenix and Spiritual Paths, Spiritual Gurus, Your Choice.
As part of her explorations, Dr. Carol Francis interviews experts of Psychological Tools, Remote Viewing, Astral Projection, Meditation, and Psychic Phenomenon on her radio show Dr. Carol Francis Talk Radio podcast at BlogTalkRadio.com/dr-carol-francis. Those interested can listen at http://www.blogtalkradio.com/dr-carol-francis/2014/06/09/remote-viewing-astral-projection-esp-psi-with-remote-viewer-mike-rogalski, http://www.blogtalkradio.com/dr-carol-francis/2013/07/15/dr-steve-g-jones-on-astral-projection-and-empowerment. Dr. Carol Francis has also provided instruction on Astral Projection Techniques on YouTube: Spiritual Journey Tools. Dr. Carol Francis also practices traditional psychotherapies and she can be reach at DrCarolFrancis.com.