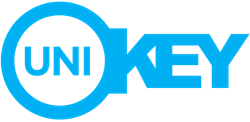 "This will be a highly sought after feature in Multi-Dwelling Units that will drive substantial recurring revenue for owners and management companies."
Winter Park, FL (PRWEB) August 20, 2015
UniKey, the smart lock pioneer and industry leader in smart access control technology, announces the addition of Marshall Haas, founder of Haas Publishing the pioneer behind the Apartment Guide and a veteran industry expert in the multifamily industry.
Haas launched the first Apartment Guide forty years ago in Jacksonville, Florida and it quickly became the number one leasing and marketing source across America revolutionizing marketing & established absolute Cost Per Lease Tracking. Within ten years, Haas Publishing became a national powerhouse & the National Apartment Association (NAA) honored Haas by featuring him on the front cover of Units Magazine 50th anniversary issue. He was the first vendor member ever to receive this honor for his contribution to the multifamily industry.
The announcement demonstrates UniKey's commitment to advancing smart access control platforms across multiple verticals and industries, in this case real estate investment and property management companies.
"Marshall Haas comes to us with a deep understanding of the industry and the needs and wants of property management companies nationwide," says Phil Dumas, UniKey's President. "He has already proven a great addition to our team and will help lead this strategic initiative."
In 2013, UniKey partnered with Kwikset to bring Kevo, the industry's first smart lock, to market. UniKey's breakthrough U.S. residential product, Kevo is currently the smart lock of choice installed in approximately all 6,000 Trinity Property Consultants properties. Executive Vice President David Seiler of Trinity Property Consultants says, "The UniKey powered Kevo enabled Trinity to increase resident retention and achieve higher renewal rates, lower turnover costs and re-key efforts. Offering Kevo as a Smart Home option has helped Trinity properties with attracting a new highly coveted tech-savvy resident profile. Additionally, by pairing Kevo with Nest thermostats, the UniKey powered Kevo smart lock has helped Trinity's "green Initiative" to better serve the environment."
"The feedback from consumers & industry partners in all segments of the housing space has been very enthusiastic," says Marshall Haas about his interactions with leaders in this space regarding UniKey's smart lock technology. "This will be a highly sought after feature in Multi-Dwelling Units that will drive substantial recurring revenue for owners and management companies."
UniKey provides a secure mobile key platform for leading companies to smart enable their portfolios.
For more information on UniKey, please visit http://www.unikey.com/multifamily. Follow UniKey on Facebook, Twitter, LinkedIn and Google+.