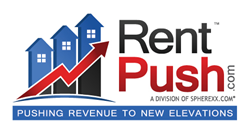 RentPush was literally worth a million dollars to us. Edward B. Partridge, CPM®, HCCP, VP Asset Management, MacDonald Companies, Inc.
DALLAS, TX (PRWEB) September 30, 2015
Owners and managers of multi-housing real estate have an added advantage for optimizing the values of their multifamily real estate assets through the interface with RentPush and Yardi Voyager. The Yardi Voyager integration will streamline data exchange between the two systems and users will no longer need multiple data entries to update pertinent leasing and product information. RentPush will acquire historical data from Yardi Voyager, further streamlining a RentPush implementation. A broad range of product and pricing detail can be shared between the revenue management and Yardi Voyager software, such as leasing activity, renewals, availability, and concessions. When partnered with ILoveLeasing.com Customer Relationship Management, the program also gains a demand factor in its pricing matrix.
RentPush provides pricing for available units and renewal rates through a science-based algorithmic functionality that is accessed through multiple levels of property management interaction. Field and regional managers have instant share capability; revenue managers have access into all subordinate dashboard levels with one click, which facilitates remote communications. The system is flexible and customized. Leasing team members offer prospects a variety of pricing options at a glance through a sophisticated filtering feature. The program offers a website price presentation where web visitors make selections based on type, occupancy date, specific unit amenities and location. It then generates a firm price quote that remains in effect for a period of time determined by the management company. RentPush has performed exceptionally well, recently producing a 15.5% growth rate in the first twelve months of construction. View the case study and video by clicking here.
RentPush.com offers three pricing tiers, affordable set up fees and no portfolio limitations. Subscribers may select an essential subscription, a pro version that includes an advanced dashboard and revenue management consulting, or the analyst version that offers weekly services of a qualified revenue manager.
About RentPush.com® div Spherexx.com®
RentPush is revenue management, asset optimization software based on scientific modeling and simulation combined with operational controls, performance goals, compliance platform, ROI monitoring and forecasting. It assimilates integral accounting, operational and market data into optimum price per unit while providing controls of how operations are impacting assets: raising flags, offering perspective and direction. It generates prime rates for renewals and new leases to maximize total revenue growth. RentPush.com publishes pricing in compelling, streamlined sequences that eliminates objections and frustrations associated with demand pricing choices. The program automatically analyzes current rent roll criteria, leasing history, competitor market data, regional trends, plus other factors that impact pricing structure. RentPush.com forecasts rents and adds time tested industry specific metrics to guide customized revenue management strategy to its science-driven structure. RentPush was selected as a Multi-Housing News Technology Choice winner by popular vote in 2014.
Spherexx.com is recognized as an established leader for website, Internet marketing and software development services since 2000. With offices located in Tulsa, Dallas, and Houston, the company has been distinguished as one of INC5000's fastest growing companies.
Spherexx.com offers a wide selection of professional services including software development, web design and development, touchscreen kiosks, Internet lead generation tools, online advertising, consulting, advanced mobile technology, apartment lease-up marketing consulting, and search engine performance. The company also provides branding services, video/multimedia production, print media, and copywriting, as well as website and email hosting, database solutions, pay per click, e-commerce solutions and custom programming.