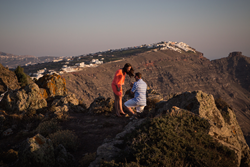 It was then I realized the entire thing had been a set-up.
Dallas, TX (PRWEB) August 21, 2015
Little girls dream of the day their prince charming will drop to one knee and ask for their hand in marriage, but when the life-changing moment actually happens, they often have little more than a memory to treasure. Local entrepreneur Davey Devlin wanted to ensure that his girlfriend Haley O'Sullivan would always remember the magnificent surroundings of Santorini, Greece when he popped the question, so he hatched an elaborate scheme, hired a film crew, and pulled off what may be one of the most romantic and cleverly orchestrated proposals of all time.
The video of the event, which Devlin recently posted to YouTube, showcases the spectacular scenery of the Mediterranean coast where the pair became engaged. Opening with an awe-inspiring aerial shot of the young couple walking hand-in-hand along a rocky cliff, the camera rises to reveal the bleached white walls and sapphire dome of a traditional Greek church overlooking the striking blue Aegean Sea below. Bantam houses sprinkled across the landscape appear to sparkle as the setting sun creates an almost candlelit glow around the couple, the perfect setting for a proposal worthy of a Nicholas Sparks novel. But, getting O'Sullivan to that cliff-side perch took nine months of careful planning on Devlin's part.
"After receiving a letter from the hotel asking for couples to volunteer to be part of a promotional project including photos and videos 'we' agreed to participate," recounts O'Sullivan, who fell for her boyfriend's ruse. In fact, there was no promotional project, only a well-hatched plot to have a film crew follow the couple on an amazing luxury getaway to capture the magic moment when Devlin would propose.
The adventure started with a cruise at dusk, followed by a day of pampering for O'Sullivan, who in 2013 was crowned the Rose of Tralee, an international competition celebrated among Irish communities worldwide. The VIP treatment continued into the evening, as the couple was asked to take photos about town for the hotel and was led to the top of a mountain overlooking the sunset.
"As I looked out over the stunning water my gaze was directed toward two people holding a banner with the proposal printed on it. Looking back toward Davey, I saw him on one knee holding up a ring asking me to spend the rest of my life with him," says O'Sullivan, adding, "It was then I realized the entire thing had been a set-up."
Devlin, who owns Dallas landscape design company Scapes Incorporated, met O'Sullivan in 2012 through a Gaelic Football Club based in Dallas. His company sponsored the women's team, and he was celebrating the outcome of a championship game at an Irish bar in Austin when the Texas Rose caught his gaze. Later that night, as she was leaving, he boldly told her that he intended to marry her—a proclamation met with an eye roll and a laugh.
"Thankfully, her sister had some faith in my vision, as she grabbed my phone and put Haley's number in and suggested I stay in contact with her," Devlin says.
The two did stay in touch and eventually started dating. Late last year, the cunning entrepreneur started to hatch his plot for an unforgettable proposal. After researching romantic ideas from his iPad, he came across a photo of Santorini and knew he'd struck gold.
Explains Devlin, "Growing up, Haley's parents had a painting of Santorini that captured the island's beauty with its picturesque blue domes, unique landscape and majestic sunsets. Haley loved the painting and had told me that it would be a dream of hers to see it in person some day."
He booked a suite at the Andronis hotel and brought the manager in on his scheme. Together, they planned the fairy-tale trip, complete with a yacht ride, personal driver, romantic dinner and wine tasting, among other luxuries. Devlin also hired Milaneschi Films and Drone Azzurro to capture everything on video from the ground and the air—all under the ruse that the footage was part of a marketing campaign.
Says O'Sullivan, "I had been fooled but experienced one of the best surprises of my life."
The couple has since returned to Texas, and Devlin is now back at work focusing his creative skills on designing backyard resorts that rival the luxury of a Mediterranean vista right here in Dallas, as O'Sullivan returns to teaching at Highlands Park Middle School and starts planning for their perfect wedding. They haven't decided on a honeymoon spot just yet, but odds are, the views will be breathtaking.
About Scapes Incorporated
Dallas landscape design company Scapes Incorporated has been designing, building and maintaining outdoor environments throughout the DFW Metroplex for more than two decades. Co-founders David Devlin and Russell Gibson, together with their award-winning landscape design team, serve their residential, commercial and municipal clients with the utmost professionalism and a commitment to exceeding expectations.