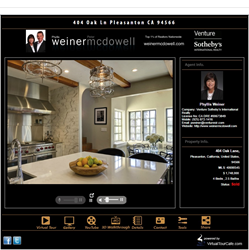 Pleasanton, CA (PRWEB) August 20, 2015
VirtualTourCafe real estate virtual tours and professional photographers captured the featured home shown on Million Dollar Listing San Francisco this week using their NEW 3D WalkThrough Home Tours™ technology as a MatterPort Service Partner.
If you watched the Million Dollar Listing San Francisco show (Episode 7) August 19th, the high-end luxury home featured by Andrew Greenwell and Phyllis Weiner in Pleasanton, Ca, was originally photographed by VirtualTourCafe, a Pleasanton based international real estate virtual tours provider.
Walk through the home as if you are there, even walking up the custom tiled stairway as shown on the show, or step out on the balcony to look out over the lush gardens. Experience for yourself the incredible custom features, gorgeous chef's kitchen and walk-in master closet larger than most bedrooms!
Being the first national virtual tour service to incorporate professional photography, as well as the new 3-D modeling technology into the real estate virtual tours theme with agent and broker branding, VirtualTourCafe offers home owners and real estate agents such as Phyllis Weiner (sellers agent) an alternative to the traditional open house.
And with international buyers making up 20 to even 30% of home purchases according to the National Association of Realtors®, this can be a game-changer for many real estate agents and Brokers.
VirtualTourCafe real estate virtual tours provider launched the new 3D Walkthrough Home Tour™ and professional photography service in the San Francisco Bay Area to a great reception by both the real estate community and home owners with plans to expand as the technology gains acceptance.
About VirtualTourCafe.com
VirtualTourCafe, LLC is based in Pleasanton, California with clients coast to coast and in three countries. The business offers both a Do-It-Yourself subscription service and a We Do-It-For-You full-service professional photography option in select markets.