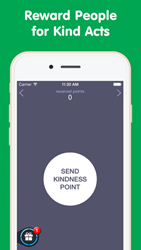 (PRWEB) August 22, 2015
"uKind" was featured on NewsWatch as part of its monthly AppWatch, which takes a look at the latest and coolest applications on the market for iOS, Android, and Windows. Joe Toohey, the host of AppWatch and technology expert, conducted the app review and shared with viewers how this app was designed to inspire kindness.
The ancient philosopher Philo said, "Be kind, for everyone you meet is fighting a hard battle." Just click on the news at any point in the day and you'll see the tumultuous path people are on. It all comes down to failure to treat men and women with kindness.
uKind is a new application that allows people to show gratitude to people all over the world for acts of kindness. Users of uKind do this by sending kindness points to people. The more points someone racks up the higher their aptitude is for kindness, which in turn will likely result in more kind acts. Kindness points can be redeemed for fun rewards as well – things like gift cards or headphones – it's not necessarily about the rewards, but a way to reinforce kindness by all.
With full social media integration, users can send or receive kindness points through Facebook and Twitter as well as through text and e-mail. And just to keep the negative out of the app, moderators monitor the publicly shared posts so that only kindness is being shared. The uKind app is available on iOS for free.
To learn more, visit https://itunes.apple.com/us/app/ukind/id925479136?mt=8 today.
About NewsWatch
NewsWatch is a weekly 30-minute consumer oriented television show that airs on the Discovery Channel and ION Network. NewsWatch regularly features top technology products and services, mobile applications for iOS, Android, and Windows devices, unique and beautiful travel destinations around the world, health and medical tips, and entertainment interviews on the show. NewsWatch airs on the Discovery Channel at 7:00 – 7:30 AM ET/PT.
NewsWatch is located in the greater Washington, DC area and has been on air for over 25 years. For more information or to watch the most recent episode, visit http://newswatchtv.com/appwatch.html.