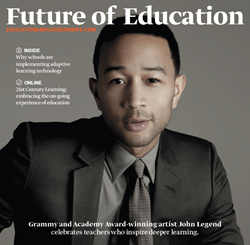 We're trying to harness the teacher's creativity, harness the student's creativity, account for the fact that different students have different strengths—things that excite them, ways to see what excites those young people
New York, NY (PRWEB) August 21, 2015
In the past, K-12 learners were denied the creative opportunities that are now available. The 21st century classroom enables teachers to identify student passions, leading to a better, more meaningful learning experience.
John Legend, Grammy and Academy Award winning artist, graces the cover of the print publication. In an exclusive interview with Mediaplanet, he celebrates teachers who inspire deeper learning through his LRNG Challenge.
"I always enjoyed the teachers the most that had interesting projects for us: things that connected the curriculum to our life experience; things that inspired our creativity; things that allowed us to be individuals and not just rotely memorizing things," he states. "We're trying to harness the teacher's creativity, harness the student's creativity, account for the fact that different students have different strengths—things that excite them, ways to see what excites those young people."
Legend adds that the bottom is line is to "really give teachers the opportunity to not just give them what's on the curriculum, but light a spark in the students and make them really love learning."
The print component of "Future of Education" is distributed within this weekend's edition of USA Today in Los Angeles, New York and Washington DC/Baltimore, with a circulation of approximately 250,000 copies and an estimated readership of 750,000. The digital component is distributed nationally, through a vast social media strategy, and across a network of top news sites and partner outlets. To explore the digital version of the campaign, click here.
This edition of "Future of Education" was made possible with the support of John Legend, LRNG Challenge, Knewton, SMART Technologies, Association for Supervision and Curriculum Development (ASCD), National Parent Teacher Association (PTA), State Educational Technology Directors Association (SETDA), International Society for Technology in Education (ISTE), Partnership for 21st Century Learning (P21), American Library Association (ALA), School Outfitters and many more.
About Mediaplanet
Mediaplanet is the leading independent publisher of content-marketing campaigns covering a variety of topics and industries. We turn consumer interest into action by providing readers with motivational editorial, pairing it with relevant advertisers, and distributing it within top newspapers and online platforms around the world.