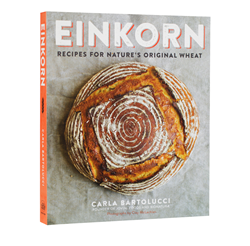 Carla Bartolucci takes the mystery out of baking with nature's original wheat
(PRWEB) August 21, 2015
Discover the many uses for einkorn, the ancient grain that's perfect for gluten-sensitive and paleo-flexible home cooks, with the 100 recipes in EINKORN: Recipes for Nature's Original Wheat by Carla Bartolucci currently on sale (Jovial Foods- $18.75)
Einkorn, the only wheat never hybridized, is the first form of cultivated wheat and can be traced back over 12,000 years to the Fertile Crescent. Because of its lack of high molecular weight proteins, people who struggle with gluten sensitivity find that they can still enjoy einkorn without experiencing the same side effects that come with eating modern wheat.
Now, with "Einkorn", Carla Bartolucci, founder of the Jovial line of organic foods, takes the mystery out of baking with nature's original wheat. The book features approachable recipes that every home cook wants in their repertoire, plus authentic Italian dishes Carla has learned from her life in Italy. Some highlight recipes include:

Bread & Crackers: No-Knead Crusty Artisan Loaf; Softest Sandwich Loaf; Parmigiano-Reggiano Crackers
Quick Breads & Breakfast: Bacon Cheddar Buttermilk Biscuits; Yogurt-Blueberry Muffins; Overnight Kefir Coffe Cake
Cookies & Cakes: Olive Oil & Wine Cookies; Goodness Graham Crackers; Brooklyn Blackout Cake
Pies, Tarts, Pastries & Puddings: Slow-Rise Sticky Cinnamon Buns; Sour Cherry Crostata; Italian Cream Puffs
Pizza, Pasta & Savory Dishes: Pizza Margherita; Fresh Ricotta Tortelloni,; Braising Greens Pie
Street Food: Salt Cod Fritters; Korean Dumplings; Soft German Pretzels; Empanadas
"Einkorn is hot, ancient though it may be, and the grain world is abuzz in fact, fiction, and myth about it. Thank you, Carla Bartolucci, you have made the old new all over again." Peter Reinhart, author of Bread Revolution
About the Author:
Carla Bartolucci and her husband, Rodolfo, first started growing einkorn near their home in Northern Italy in 2009 and today are the largest growers of einkorn wheat in the world. Through their line of products with Jovial Foods and Bionaturæ, they aim to preserve plant biodiversity and promote ancient varieties of fruit, olives, and grains.
About the Book:
Einkorn: Recipes for Nature's Original Wheat
by Carla Bartolucci
Trade Paperback; IBSN: 978-0-8041-8647-6