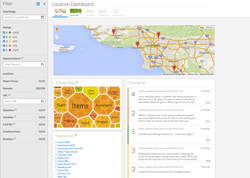 OpinionLab's Summer 2015 Release empowers brands to effectively understand consumer feedback captured through these converging channels and take real time action...
Chicago, IL (PRWEB) August 27, 2015
OpinionLab today announced its Summer 2015 Release to extend the advantages of digital consumer initiated engagement into physical locations. The release leverages over a decade of digital Voice of Customer innovation to help brands make smarter and faster business decisions in a true omnichannel environment.
For the first time, brands can easily connect consumer feedback gathered through digital channels such as smartphones with specific physical locations. OpinionLab's unique context-driven solution enables brands to take effective action on that location-based feedback to create a high quality and consistent omnichannel customer experience (CX).
"Pervasive smart devices and rapidly changing consumer expectations have blended physical and digital channels into a true omnichannel environment," said Mark Treschl, President and CTO of OpinionLab. "OpinionLab's Summer 2015 Release empowers brands to effectively understand consumer feedback captured through these converging channels and take real-time action to improve their omnichannel CX."
OpinionLab Summer 2015 Release: Action Empowered by Location Based Feedback
Built to consider both the needs of today's mobile consumer, and the brands that serve them, OpinionLab's Summer 2015 Release introduces a number of industry first innovations including:

Location Selector: This consumer facing innovation simplifies a consumer's experience when seeking to provide feedback on a physical location via a digital channel. A consumer's location is automatically determined based on their digital geolocation and a tailored list of nearby brand locations is presented on which the consumer can choose to provide feedback. A consumer can also choose to identify a brand location with a simple search.
Location Analytics: Architected to meet the rigorous demands of brands with a significant number of physical locations, this innovation helps brands take immediate and effective location-based action on Voice of Customer feedback. To fully integrate with a brand's operations, feedback can be easily organized and analyzed based on a brand's specific location hierarchy. Location analytics provide a view across geographies, real-time display of data for specific locations, the programming of location specific alerts and monitors, and the ability to summarize data by any dimension. A variety of data visualization tools with click-though access to rich context and detail empower brands to act in real-time to improve the quality and consistency of their physical CX.
Other Summer 2015 Release Enhancements
Additionally, OpinionLab's Summer 2015 Release includes several enterprise platform enhancements to help brands more effectively engage with consumers and take real-time action on their Voice of Customer feedback including:
Advanced Diagnostics: New data export functionality and greatly expanded data filtering capabilities empower brands to more effectively act on their Voice of Customer feedback.
Improved Consumer Feedback Experience: A comprehensive suite of new digital comment cards incorporating responsive design, WCAG 2.0 AA compliance and a variety of other software upgrades enable consumers to more easily and securely provide feedback to brands.
"We've long served many of the world's best known retail and financial services brands where consistent CX across numerous physical and digital channels is of paramount importance," Treschl continued. "Our customers asked for innovation to help them easily identify their physical locations with exceptional CX to inform their overall operations and our Summer Release delivers that innovation."
The OpinionLab Summer 2015 Release is now available. For more information, please visit opinionlab.com.
About OpinionLab
OpinionLab is a high-growth SaaS provider of continuous Voice of Customer listening solutions that drive smarter, real-time business action to deliver a high quality and consistent customer experience. The world's largest brands, including: 4 of the top 5 U.S. retailers; 8 of the 10 largest American banks; the 5 largest U.S. insurance companies; and 3 of the top 4 U.S. airlines use OpinionLab to optimize customer experience and drive engagement across channels. OpinionLab continuously introduces new innovation to serve marketing and customer experience leaders, and is accelerating all aspects of its business to best serve the needs of its global customer base.