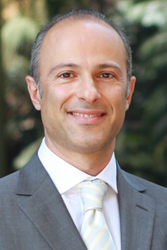 "We strongly believe in active surveillance to ensure that our patients receive prompt, aggressive treatment, only when it is necessary," said Dr. Michel
Los Angeles, CA (PRWEB) August 22, 2015
According to a study published in JAMA Internal Medicine, there have been vast improvements in overall prostate cancer treatment due to a growing trend in "watchful waiting." The study found that between 1990 and 2009, at least 7% of low-risk patients did not undergo treatment, such as radiation or surgery. However, by 2010 through 2013, the number increased to at least 40% of low-risk patients who remained untreated but carefully monitored. Dr. Kia Michel and the urologists at Comprehensive Urology provide insight into these improvements and other advancements in the field of prostate cancer treatment.
"By foregoing medical treatment in patients with low-risk prostate cancer, while still monitoring whether their conditions worsen," said experienced urologist Dr. Kia Michel, "patients can avoid enduring the serious side-effects of surgery or radiation before it is necessary. Some patients are able to live a relatively unchanged lifestyle because the prostate cancer is slow-growing or unobtrusive."
One of the main reasons that the number of patients under "active surveillance" increased is because the definition of low-risk was inconsistent in previous studies. Based on a single definition, the rate of men watching and waiting before undergoing unnecessary treatment is higher, which indicates that screening and monitoring has become more prevalent altogether.
"The side-effects of surgery or radiation can be severe and long-lasting," added Dr. Michel. "It is more beneficial for patients who are not in dire need of treatment to hold out rather than put themselves at a greater risk for permanent medical issues, such as impotence or incontinence."
The greatest number of men currently watching and waiting are those aged 75 and older. This demographic is also the most at-risk for serious complications during prostate cancer treatment. Through the efforts of urologists, like the team at Comprehensive Urology, both at-risk men and those currently battling prostate cancer have a greater chance of staying healthy and living long lives. Through effective biopsies using precise equipment, modern treatment techniques like whole gland treatment, and a variety of prevention techniques, Comprehensive Urology doctors provide needed care for each patient's individual needs. In addition, today's prostate cancer treatments create far fewer side-effects and allow for a much faster healing time in order to help patients return to a normal and healthy everyday life as quickly as possible.
"At Comprehensive Urology, we treat our patients with the singular goal of maintaining their quality of life," continued Dr. Michel. "We strongly believe in active surveillance to ensure that our patients receive prompt, aggressive treatment, only when it is necessary."
Kia Michel M.D. earned his medical degree at the University of Washington School of Medicine and completed his residency at UCLA. He has also been recognized as a National Pfizer Scholar. As one of the founding members of the reputable Comprehensive Urology Medical Group, located in the Cedars-Sinai Medical Towers in Los Angeles, California, Dr. Michel treats a host of urologic diseases. One of the few urologists who is both an acclaimed cancer and robotic surgeon, Dr. Michel is a compassionate doctor who has dedicated his career to providing state-of-the-art care for his patients with a warm, nurturing touch. In addition to Comprehensive Urology, Dr. Michel is also a founding member of the Integrated Prostate Cancer Center in Los Angeles, an advanced facility dedicated to the treatment and prevention of prostate cancer.
Comprehensive Urology is a renowned urological practice in Los Angeles that provides state of the art urological care in a personalized and compassionate environment. The physicians at Comprehensive Urology are board-certified urologists with specialty training in a number of different aspects of urology and provide tailored care for their patients with outstanding results. Call them today at (310) 278-8330 or visit their website: http://www.comprehensive-urology.com/.