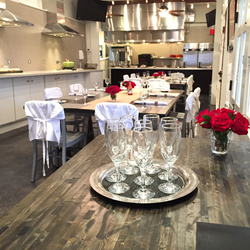 " Everyday I enjoy sharing the history and culture of this great city of New Orleans with our guests. Hopefully I inspire them to cook a little too." Chef Amy Sins
New Orleans, LA (PRWEB) August 24, 2015
Chef Amy Sins never planned on opening a Cajun/Creole restaurant in New Orleans. But then, she didn't plan on seeing her home, submerged in more than six feet of water, broadcast again and again from helicopter fly-overs on CNN, either. August 29, 2005 changed things for a lot of people in south Louisiana.
After the success of "Ruby Slipper Cookbook: Life, Culture, Family and Food After Katrina," which Chef Sins wrote as a refugee in the months following the epic levee failures, Sins couldn't shake the feeling that she wanted to do more.
"I wrote "Ruby Slippers" to save important recipes – the ones my family and friends and neighbors lost in the flood – and to create some record of our way of life, because it felt like everything was gone and would never come back," Sins recalls. "But writing it also made me focus on what I really wanted to do with my life: share my culture, our food, and this amazing city."
And, because Sins is one of those spirited, "dive in headfirst" Southern women, she immersed herself in learning more about New Orleans history and got her New Orleans tour guide permit. Somewhere in the process of devouring books about Louisiana food and history, Sins ran across the story of Madame Langlois [lang-WAH], a housekeeper for the French governor of Louisiana in the early to mid 1700s. The story goes that after an uprising staged by French "casket girls" demanding better food in the new colony, Langlois was tasked with teaching the women how to adapt their cooking to native ingredients like hominy and ground sassafrass leaves. Langlois is called the mother of Creole cuisine.
The story was a light-bulb moment for Chef Sins – a pivotal point when the idea for her own restaurant crystallized. It would be a cooking demonstration restaurant with a supper club atmosphere – a Cajun/Creole dining experience that feels like a local dinner party with monthly menus rooted in telling the story of Louisiana cuisine. And she'd call it Langlois.
While working with partners to renovate a historic property in the Treme to create the boutique Jazz Quarters bed and breakfast, Sins set her sites on a creaky, old building in the Marigny Triangle, a neighborhood with deep roots in New Orleans culinary history. The corner building was steeped in the colorful, quirky history of the neighborhood – operating as a bar at several points in time (some legal, some ... not so much), a Zulu coconut bedazzling headquarters, and in the 1850s, a small Sicilian grocery called Ferrara and Sons.
After a lengthy renovation that turned the building into a state-of-the-art open kitchen restaurant, Chef Sins opened Langlois on November 30, 2012. The restaurant is one of many that embody the spirit of the "new" New Orleans, post-Katrina. The modern Cajun/Creole supper club draws many of its ingredients from the restaurant's Crossroads Farm, an urban farm built on vacant lots in the Upper Ninth Ward. Every week, Chef Amy and her team conduct interactive dining demonstrations that draw visitors and locals to the Marigny for her three-course, seasonal menus and a truly unique New Orleans dining experience.
ABOUT LANGLOIS
Opened in November 2012, Langlois is a New Orleans supper club with a Cajun/Creole twist. From mis en place to plate, Langlois' chefs explore Louisiana's distinct culinary heritage, and introduce diners to the history and ingredients of Cajun/Creole cuisine in the state-of-the-art open kitchen restaurant. Think: Chef's table meets Cajun/Creole cooking demo with a spontaneous dinner party atmosphere. Since its inception, Langlois has been embraced by visitors and locals and received local and national praise, most notably named by Travel & Leisure as one of the "Best Cooking Schools around the World." The restaurant is housed inside an historic, renovated grocery store in the Marigny. Seating is family-style, by reservation only, and limited to 20 guests to ensure an intimate, authentic experience.
Visit LangloisNOLA.com for more information about Langlois' seasonal, monthly menus and reservations, or call (504) 934-1010.