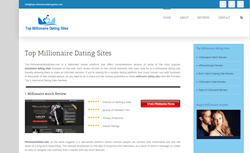 (PRWEB) September 02, 2015
Top-MillionaireDatingSites.com recently published its list of the best millionaire dating sites on the market. According to this site, MillionaireMatch.com has bagged the top spot while AffluentSingle.com has been rated as the second best dating site in the category.
A spokesperson of the site said, "With the launch of this site, we are looking to set a new trend in the online dating industry. Internet users would now be able to access every resource that would help them find a wealthy companion. We have published detailed reviews of the best millionaire dating sites currently available. This would certainly allow users to understand that a particular site has in store for them so that they can make a wise choice."
Although review sites have gained popularity over the years, there are very few that are regarded authentic. In addition to reviews, the site also encompasses various articles and blogs that can help users learn about the tips and tricks of online dating. Industry experts believe that Top-MillionaireDatingSites.com has the potential to be the 'next big thing' in the online millionaire dating segment.
Apart from MillionaireMatch.com and AffluentSingle.com, MillionaireMate.com and DateAMillionaire.com have also been listed among the top millionaire dating sites on the market. "A resource intensive platform that can help people find the best dating site is something we have been waiting for. This is the site that can cater to all your needs," said dating expert Joah Skinner.
Top-MillionaireDatingSites.com is absolutely free to use. Besides, users wouldn't have to register to access the services available on it.