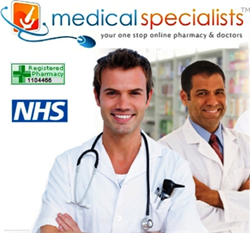 People suffering with chronic pain must remember that they are not alone – there are literally hundreds of millions of other people in the same boat. Nobody needs to suffer in silence...
(PRWEB UK) 25 August 2015
Next week will see the beginning of September's Pain Awareness Month, an awareness campaign proudly supported by Medical Specialists® Pharmacy that is aimed at boosting the knowledge to both patients and healthcare providers regarding the different treatment options available for pain management, in addition to bringing attention to the distressing and very real physical suffering that hundreds of millions of people around the world are experiencing on a daily basis.
Pain Awareness Month was launched back in 2001 when the American Pain Foundation Action Network led a coalition of groups to establish September as Pain Awareness Month, to try and offer help and support to the estimated 75 million Americans suffering with pain.
Although the campaign was primarily targeting those in the United States, chronic pain is obviously something that anybody in the world can experience. In fact, chronic pain afflicts around 1 in 7 of the UK population.
Even with this statistic, chronic pain is still one of the more under-funded services in the NHS, and patients can sometimes find that attempting to obtain effective and appropriate treatment for chronic pain can often be a frustrating process, leaving them feeling angry and hopeless.
Maybe it is for this reason why Medical Specialists® have had thousands of patients come to them during the last 18 months; patients suffering from a wide variety of painful health conditions, such as arthritis, back pain, dental infection, frozen shoulder, gout, migraine, osteoarthritis, rheumatoid arthritis, toothache…indeed the list goes on.
What these conditions have in common is that they typically do not show any obvious outward symptoms, since pain is an invisible thing. This means it may be hard for others to fully grasp and understand that the sufferer could be in that much pain so often.
If the person suffering is in a great deal of pain, it is usually more incapacitating and chronic pain has been known to be linked to cases of depression, as well as feelings of isolation and a loss of self-esteem. Unfortunately, there is a higher risk of suicide amongst those people with inadequately managed chronic pain.
People suffering with chronic pain must remember that they are not alone – there are literally hundreds of millions of other people in the same boat. Nobody needs to suffer in silence and if you have a loved one that is afflicted with chronic pain, Medical Specialists® advises reading the article 'Understanding Chronic Pain' by Karen Lee Richards, which helps to shed some insight into the daily struggles of a person with long-term chronic pain – a great way to further raise awareness about the issue during Pain Awareness Month, and beyond.
Moreover, NHS Choices have several website pages purely dedicated to matters all about pain, such as back pain at work, pain and your emotions, some surprising headache triggers and an extensive page of '20 painful health conditions'. This page is particularly helpful for anybody confused about the differences in certain common problems – for example distinguishing between headaches and migraine.
Migraines are one of the leading causes of absenteeism in the workplace - migraine and chronic headache are the second most common reasons given for short term absence from work – and the charity The Migraine Trust estimates that around 25 million working days are lost due to migraine, and at average gross weekly pay of £450, costs the UK £2.25 billion each year. Clearly, migraines and other types of painful health problems have a huge impact on the lives of those suffering, but also on wider society as a whole.
For those concerned about the impact of migraine on their working life, or indeed on the ability to carry out simple day-to-day activities, Medical Specialists® offer a fantastic range of migraine prevention and migraine relief treatments like Imigran, Sumatriptan and Propranolol, which, for UK patients, can be obtained within 24 hours following an online consultation with one of Medical Specialists'® GMC-registered doctors.
The three primary types of drugs prescribed as painkillers include:
. Non-steroidal anti-inflammatory drugs (NSAIDS). Examples of NSAIDs include aspirin, ibuprofen, celecoxib, diclofenac and naproxen.
. Paracetamol. There are various examples of strength and also combined with other drugs.
. Opioids (also known as opiates). Examples of weak opioids include codeine and dihydrocodeine, whilst examples of stronger opioids include diamorphine, morphine, oxycodone, and pethidine. Patients in hospital sometimes require strong opioids depending on their extent of pain. Tramadol is an opioid that fits somewhere in between the two.
There are patients however that can struggle to take oral medication, which is why Medical Specialists® also provide the over-the-counter osteoarthritis treatment flexiseq gel. Remarkably, this popular pain relieving gel does not contain any pharmaceutical drug, yet is clinically proven to reduce pain and restore mobility in the afflicted joint.
The pharmacy can even provide antibiotics such as Amoxicillin and Metronidazole as a one off emergency treatment for dental infections and gum disease. This stand by treatment is ideal for male or female patients, whilst they are waiting to see a dental practitioner.
Medical Specialists® hope that readers now have a better insight into the plight of those that are battling with any one of the many long-term chronic conditions that cause distressing, frustrating, and sometimes even incapacitating pain for the sufferer.
American readers can click here to find out how to get involved in Pain Awareness Month in the United States, but hopefully people all around the globe will now perhaps not take their health for granted and take steps to understand, show compassion, and provide support to friends or loved ones with chronic pain.