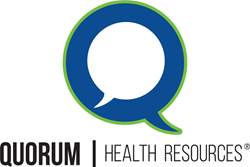 Brentwood, Tenn. (PRWEB) August 25, 2015
14 Quorum client hospitals were recently recognized by Avatar Solutions, a market research firm and healthcare surveys provider, as 2015 Patient Experience Award recipients. Three Quorum client hospitals were distinguished as "Best Overall Performers," which were awarded to 15 healthcare providers.
Avatar award winners are recognized for leading their peers in the ongoing drive to improve quality and performance in healthcare. More than 80 hospitals, surgery centers and other healthcare providers received Avatar awards. Avatar's 15 healthcare providers Best Overall Performers were recognized for having the best overall inpatient, outpatient, emergency department and ambulatory surgery scores from Avatar.
"Each year, Avatar has the privilege of honoring organizations for their hard work and dedication to providing high quality patient experiences. The 14 Quorum client organizations that won awards this year should be proud of their efforts," said Marty Wright, Senior Vice President of Engagement Services at Avatar Solutions. "The awards indicate these organizations care deeply about the patient experience and are committed to providing the positive, caring environment each individual patient deserves."
"We are proud to see several Quorum client hospitals honored for their patient experience improvement efforts," said Quorum President and CEO Mickey Bilbrey. "Avatar awards further distinguish these healthcare organizations as leaders in improving quality and performance for their patients."
The Quorum client hospital award recipients include:

Calais Regional Hospital (Calais, ME)
o Exceeding Expectations

Cary Medical Center (Caribou, ME)
o Best Overall Performer
o Exceeding Patient Expectations

Franklin Foundation Hospital (Franklin, LA)
o HCAHPS Best Performer- Pain Management- Small Hospital
o HCAHPS Most Improved- Responsiveness- Small Hospital

Gonzales Healthcare Systems (Gonzales, TX)
o HCAHPS Most Improved- Communication with Nurses- Small Hospital
o HCAHPS Most Improved- Communication with Doctors- Small Hospital
o HCAHPS Most Improved- Cleanliness- Small Hospital

Hayes Green Beach Memorial Hospital (Charlotte, MI)
o Runner Up- Most Improved Engagement Scores

King's Daughters Medical Center (Brookhaven, MS)
o First Place- Highest Overall Job Satisfaction

Mena Regional Health System (Mena, AR)
o Exemplary Service- Most Improved Inpatient
o HCAHPS Most Improved Responsiveness- Medium Hospital
o HCAHPS Most Improved Pain Management- Medium Hospital

Montrose Memorial Hospital (Montrose, CO)
o HCAHPS Best Performer Cleanliness

Mount San Rafael Hospital (Trinidad, CO)
o HCAHPS Most Improved- Overall Rating- Small Hospital

North Valley Hospital (Whitefish, MT)
o Exceeding Expectations
o Best Overall Performer

Northwestern Medical Center (Saint Albans, VT)
o Exceeding Expectations
o Best Overall Performer
o Exemplary Service- Most Improved Ambulatory Surgery

Parkview Medical Center (Pueblo, CO)
o Best Overall Performer
o HCAHPS Best Performer- Cleanliness

Sullivan County Community Hospital- Sullivan, IN
o Exceeding Expectations
o Best Overall Performer
o Exemplary Service
o Most Improved Engagement

Trigg County Hospital (Cadiz, KY)
o Exemplary Service- Most Improved Outpatient
This marks the fourth consecutive year that Quorum client hospital Cary Medical Center received the "Best Overall Performer" award and marks the ninth year in a row it received the "Exceeding Patient Expectations" award. Kris Doody, RN, and Chief Executive Officer at Cary Medical Center said that the consistency of these awards demonstrates the high level of quality and patient centered care at the hospital. "Winning these awards again is clear evidence that our staff, our entire team, bring a passion and a calling to the work they are doing", said Doody. "To have this level of consistent performance over the years is a demonstration that our people are giving their very best, every day for our patients and their families. It just has become a way of life here. We could not be prouder of our staff and we salute them for this outstanding achievement."
To learn more please visit http://www.avatarsolutions.com.
About Quorum Health Resources
The Quorum Difference is the extraordinary combination of consulting guidance and operations experience that enables client healthcare organizations to achieve a sustainable future. As an integrated professional services company, Quorum has been delivering innovative executable solutions through experience and thought leadership for more than three decades. Quorum is consistently ranked among the top healthcare consulting firms in the nation, and the Quorum Learning Institute educates more than 10,000 healthcare leaders and professionals each year. For more information, please visit http://www.qhr.com.
###