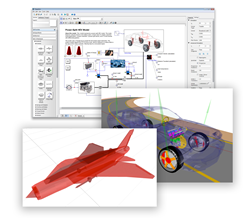 Maplesoft's contributions impact the students' overall success in our competitions – both on and off the track.
Waterloo, ON (PRWEB) August 24, 2015
As part of its sponsorship of the SAE Collegiate Design Competitions this year, Maplesoft provided the opportunity for all participating teams in the Formula SAE and SAE Aero Design 2015 competitions to use its tools in their product designs. The annual SAE Collegiate Design Series draws post-secondary students from around the world to competitions that challenge them to turn classroom theory into hands-on experience as they design formula-style racing cars, radio controlled aircrafts, snowmobiles, single-person, or fuel efficient vehicles. Teams collaborate from the initial design process through to competition, and in the process acquire and apply skills that they will later use as engineers.
Participants had the opportunity to add a suite of Maplesoft products to their toolkit: Maple, the technical computing software; MapleSim, the advanced system-level modeling tool; the MapleSim Connector, a tool which allows users to export MapleSim models as Simulink® S-function blocks; and the Driveline Library, a collection of components, transmission sub-assemblies, and complete powertrain examples that show the use of components in driveline applications. Teams from several countries including Mexico, Puerto Rico, Brazil, India and Poland, as well as teams from all across North America, have chosen to add Maplesoft tools to their toolbox. They have used them, for example, to simulate a suspension system, to calculate the heat-dump of a radiator, or to do a virtual test-run of their vehicles.
"Maplesoft's contributions impact the students' overall success in our competitions – both on and off the track," noted Kaley Zundel, Formula SAE Program Manager, SAE International. "No matter which team scores the most points, at the end of the day, every team is exposed to the same valuable experience, and receives the opportunity to participate in a competition that requires more than just engineering knowledge but also skills like project management and team work. In addition, the exposure our students get to industry professionals through sponsors like Maplesoft only adds to the importance of these programs."
"Our involvement in the SAE Collegiate Design series is at the heart of why we do what we do at Maplesoft," said Jim Dell, Vice President, Marketing, Maplesoft. "It is an example of the company's commitment to engage students in STEM learning and equip them with tools readily used in industry. The competitions bring learning to life, and we are proud to put industry-chosen tools into the hands of the next generation of engineers."
The 2015 SAE Collegiate Design series concluded at the end of June. Over 50 teams have taken advantage of Maplesoft's offer so far. Leading up to the start of the series, Luke Holloran from the UST FSAE commented, "With these tools we would gain factual knowledge of our car and learn how the changes we make mean more than a geometrical change. There is this cool feature in MapleSim that lets us virtually test a car on a track. Using that and the multitude of all the other features associated with MapleSim, I believe that we will be able to create a great car for FSAE. "
Competing teams can apply for Maplesoft products here.
To learn more about how Maplesoft products can be used to gain technical superiority in multi-domain physical modeling and simulation systems, read this whitepaper.

Simulink is a trademark or registered trademark of The MathWorks, Inc.
About Maplesoft
Maplesoft™, a subsidiary of Cybernet Systems Co., Ltd. in Japan, is the leading provider of high-performance software tools for engineering, science, and mathematics. Its product suite reflects the philosophy that given great tools, people can do great things.
Maplesoft's core technologies include the world's most advanced symbolic computation engine and revolutionary system-level modeling techniques. Combined, these technologies provide cutting-edge solutions for design, modeling, and high-performance simulation.
Maplesoft's products help to reduce errors, shorten design times, lower costs, and improve results. The Maplesoft product suite includes Maple™, the technical computing and documentation environment, and MapleSim™, the high-performance, multi-domain modeling and simulation tool for physical systems.
Engineers, scientists, and mathematicians use Maplesoft products to enable them to work better, faster, and smarter. Maplesoft's customers include Ford, Bosch, Boeing, NASA, Canadian Space Agency, Canon and Motorola, covering sectors such as automotive, aerospace, electronics, defense, energy, financial services, consumer products, and entertainment. With Toyota, Maplesoft founded the Plant Modeling Consortium to promote the development of new design techniques for automotive and related industries.
Visit http://www.maplesoft.com to learn more.
About Cybernet Systems Co., Ltd.
CYBERNET SYSTEMS in Japan provides world-class solutions and services in the CAE and IT areas. For more information, visit http://www.cybernet.co.jp/english/