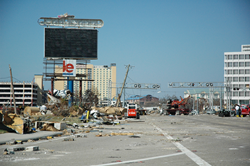 "I never cry, but I almost did. The tents came through when nobody else did"
Sarasota, FL (PRWEB) August 26, 2015
In 2005, the devastation brought by the 5th largest storm to ever strike the United States left an indelible mark on the Gulf Coast and the American people. Aid from ShelterBox was the first help to reach many survivors of Hurricane Katrina as volunteers worked to distribute tents to thousands of people who had seen their homes destroyed.
ShelterBox reflects on the aid delivery process immediately following the storm, through the support of volunteers, Rotarians and local officials. It would mark the first time the international disaster relief charity would deploy to the United States, sending thousands of tents and other vital life-saving equipment. "I never cry, but I almost did. The tents came through when nobody else did," said survivor Marion Bedlington from Diamondhead, Mississippi.
While ShelterBox has helped countries around the world with all types of disaster, few have hit as close to home as Katrina. Ten years after the disaster, the impact of the responders who selflessly gave their time and energy and the resilience of the survivors are not forgotten.
Read more, including the ShelterBox response timeline at http://shelterboxusa.org/news.php?id=1647
About SHELTERBOX USA
Since 2000, ShelterBox has provided shelter, warmth and dignity following more than 250 disasters in over 90 countries. ShelterBox instantly responds to earthquake, volcano, flood, hurricane, cyclone, tsunami or conflict by delivering boxes of aid and other supplies. Each iconic green ShelterBox contains a disaster relief tent for an extended family, stove, blankets and water filtration system, among other tools for survival. ShelterBox's American affiliate, ShelterBox USA, is headquartered in Sarasota, Florida. ShelterBox is a proud Project Partner of Rotary International. Tax-deductible donations to ShelterBox USA can be made at http://www.shelterboxusa.org or 941-907-6036.
# # #
Media contact: Chris Alexander, Communications Manager
O 941-907-6036 x102 • M 941-993-9000 • calexander(at)shelterboxusa(dot)org