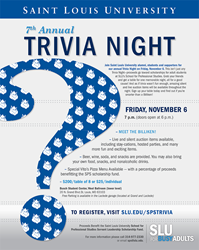 St. Louis, MO (PRWEB) September 01, 2015
The School for Professional Studies at Saint Louis University is hosting its 7th Annual Trivia Night on November 6. Proceeds from the event go toward scholarships at the University for nontraditional adult students in need. With more than 500 participants each year, SLU's trivia night has raised nearly $100,000 for the school's Servant Leadership Scholarship Fund.
Registration is now open for individuals and teams looking to participate. Event details:
Date: Friday, November 6, 2015
Time: 7 p.m. (doors open at 6 p.m.)
Location: Wool Ballroom located in the Busch Student Center
20 N. Grand Blvd.
St. Louis, MO 63103
Cost: $200 for a table of eight, or $25 for an individual
Register: slu.edu/spstrivia
This year's trivia will feature live music before and after the event and 10 unique rounds of questions including a taste test round. Trivia-goers will get an opportunity to meet the Billiken and participate in live and silent auctions throughout the night. A select menu of Vito's pizza will also be available with a portion of sales going toward the scholarship fund.
About the School for Professional Studies at Saint Louis University:
Classes in the School for Professional Studies are typically offered in accelerated eight-week sessions designed for busy adults. SLU for Busy Adults gives working professionals the opportunity to earn their degree with affordable tuition rates and flexible online and evening courses. In Saint Louis University's tradition of excellence, the School for Professional Studies caters to nontraditional students so they can pursue Bachelor's and Master's programs from a globally-recognized university.
For more information about the School for Professional Studies at SLU, visit busyadults.slu.edu or call 314-977-2330.