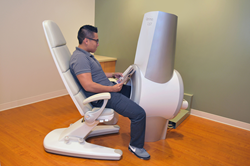 New Providence, NJ (PRWEB) August 26, 2015
Imagine seeing a doctor for a wrist or knee problem -- and the doctor recommends getting an MRI. This presents another problem -- many patients are somewhat nervous about spending time in a long MRI tube.
Here's the good news: patients don't have to! The new Extremity MRI located in Summit Medical Group's Florham Park facility makes imaging these parts of the body easier and less intimidating.
Instead of laying down to slide into a long MRI tube, there's a chair adjacent to a compact machine which looks a bit like a camera standing on end, with the lens in the middle. While a patient is seated, he/she slides his/her arm or leg into a hole in that lens-like area and, in about 30 minutes, you're done.
SMG Radiology Site Supervisor Robert Smith said the Extremity MRI has been very well-received since the facility opened two weeks ago. It can only be used to take images from the knee to toes and the elbow to fingertips but, since about 20 percent of all MRI scans are of extremities, the Extremity MRI fills a real need. It also improves the availability of the full-body scanners for other purposes.
There are other Extremity MRIs in the area, Smith said, but, "Ours is stronger. The strength of the machine is measured in Teslas and this machine has a 1.5T magnet which produces images on a par with the traditional (full body scanner) units."
When a patient comes into the room, "The environment we have here is disarming. The lighting, the design of the room really puts them at ease," Smith said. "Patients can even read a book or magazine while having their MRI."
Not only does the Extremity MRI produce exceptional images, it reduces the patient's anxiety, which means there is less need to medicate the patient. Smith said, "It's a win-win. The Extremity MRI allows for greater comfort, especially when positioning the scanner. It's a quieter scanner and reduces the need for sedation and eliminates the feeling of claustrophobia." All of which makes it "kid friendly."
The reception on the part of staff and patients has been "really positive," Smith said. "Patients have said, 'If SMG did not have this machine, I would not have had an MRI.' So, for the claustrophobic patient, this is their only option." Smith said he believes because of the new Extremity MRI, Summit Medical Group is reaching more people.
The Extremity MRI "compliments what we already have," says Smith. "We have a very large portion of our SMG orthopedic group in the building as well as our Urgent Care Center, with Fast Track and Sports Urgent Care," he notes. Along with this new equipment, Summit Medical Group's Florham Park Imaging Center provides a wide range of diagnostic imaging services -- CT scans, ultrasounds, mammograms, traditional X-Rays and fluoroscopy -- with leading technology such as:

Two Xrays
80-detector row CT scanner
Senographe(r) Essential mammography system
Wide bore 1.5T magnet full-body MRI, the widest, most open design to ease stress and claustrophobia
Ultrasound
Mammotome revolve(r), a sterotactic biopsy advanced tissue management technology
The Florham Park Imaging Center, located at 140 Park Ave., is currently open from 7 a.m. to 5 p.m., "but those hours will be extended when additional services come on board," said Smith.