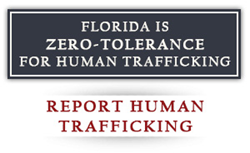 Hialeah, FL (PRWEB) September 01, 2015
La Granja Restaurants is stepping up and asking others to do the same by sponsoring Florida National University's Human Trafficking Steering Planning Committee (HTSPC). By working together and forming a powerful movement, the HTSPC's goal is to raise awareness and help put an end to the abominable human trafficking crimes that are on the rise and taking place right here, in the state of Florida. All involved with the HTSPC are working toward making the Sunshine State a safe haven for all its residents once again.
Luigi Valdivieso, Event Organizer, on behalf of FNU is excited about gathering public awareness and support for the cause against human trafficking. The HTSPC 's July 14th meeting was a great success, drawing law enforcement officials, community leaders, powerful media representation from radio and television, non-profit organizations, reputable associations, as well as local business owners, like Mrs. Claudia Bartra, owner of Lagranjarestaurants.com. Like many other concerned members of the community, she is offering her support and sponsorship in hopes of spreading the word and getting others to join in the fight, increasing the effort to crack down and stop human trafficking crimes here in Florida. She encourages other companies to help with this event. HTSPC's upcoming Human Trafficking Awareness Symposium is taking place at the Hialeah campus of Florida National University on October 8, 2015, and will share a focus and a title: Prevention, Apprehension, & Rehabilitation-Stop Human Trafficking. Contact Luigi Valdivieso for more information at lvaldivieso@fnu.edu to help with this worthy cause.
Here are some disturbing statistics about human trafficking in the state of Florida, as shared by http://www.flnow.org:

Florida is known amongst law enforcement officials to have one of the highest incidences of human trafficking in the country.
Victims can be of any gender, race or age – literally anyone can become a victim.
It is estimated that about 80% of the victims of human trafficking are female, and up to half are minors.
Trafficking victims are typically found in large cities, vacation and tourist spots.
Victims are forced into labor and servitude in the areas of agriculture, garment manufacturing, construction, and many are also sexually exploited.
La Granja Restaurants Supports Families: This growing, family style Peruvian food restaurant chain hopes others will join in the effort to raise awareness and promote the safety of Florida's residents because this is a growing problem in the community.
La Granja Restaurants is no stranger to giving back and supporting the South Florida community. From raising awareness about childhood obesity, to providing scholarships to Florida's Hispanic and Latino youth, as well as honoring our country's veterans, La Granja's founders believe that the HTSPC has created yet another way to get involved and help Floridians, by putting an end to the victimization of those caught in the harrowing underworld of human trafficking.
Since La Granja's inception, the culture of Peru and its valued traditions that center on family have helped shape this business into what is has become. In addition to distinguishing itself from its competition by serving up healthy, delicious, and authentic Peruvian food specialties at affordable prices to Florida's families, La Granja returns the support of its patrons – who its founders credit as being the backbone of La Granja's growth and success. La Granja Restaurants opened for business in the United States in 1995, and has since expanded to over 40 locations throughout the state.
La Granja Restaurants: Joining in the fight to keep Florida's families safe and free, through the combined efforts of all involved in the Human Trafficking Steering Planning Committee.
For more information about La Granja Restaurants and its widespread support of the Florida community, including information about the upcoming Human Trafficking Awareness Symposium taking place on October 8, 2015, and how you can get involved to make Florida safe from human trafficking, email Luigi Valdivieso at lvaldivieso@fnu.edu.
For a healthy meal for the family, visit http://www.lagranjarestaurants.com.