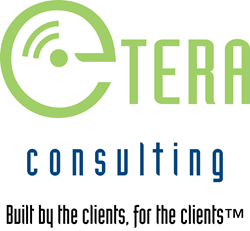 One of eTERA's deeply rooted core values is to ensure a wide range of diversity throughout the company. Over the past 11 years, we have found that gaining insight from a variety of perspectives has allowed us to grow into the company we are today
Washington, DC (PRWEB) August 25, 2015
eTERA Consulting, an internationally recognized and award-winning leader in data and technology management, announced today that they have formed a strategic partnership with Diverse Partners Network (DPN) to further support the organization's mission which is to bring together minority law firm partners to help prepare them for the challenges inherent in their professional legal industry roles.
"We are excited for the opportunity to work alongside such a well-regarded company that shares our values and recognizes the importance of a diverse workforce," said Ben Wilson, Founder of DPN and Managing Principal at Beveridge & Diamond, PC. "With its strong influence in the legal community, we are confident that eTERA Consulting will enhance our visibility and promote the mission of DPN."
Recently, the American Bar Association (ABA) pledged to address any stagnation on diversity in the legal profession as a whole. As such, the ABA plans to attract more minority attorneys through a strategic plan of accountability and growth. Supporting these initiatives, DPN provides its national membership base with a weekly email newsletter containing member news, upcoming events, and educational opportunities. With over 1,000 members in cities across the United States and Canada, DPN hosts events for diverse partners, associates and in-house counsel for the purpose of showing diverse attorneys how to build and grow their practices. DPN also helps diverse attorneys with their career path, whether moving from the private sector to the public sector (and vice versa), or among law firms and companies.
"One of eTERA's deeply rooted core values is to ensure a wide range of diversity throughout the company," said Scott Holec, eTERA Consulting's President. "Over the past 11 years, we have found that gaining insight from a variety of different perspectives has allowed us to grow into the company we are today. We look forward to working with DPN and furthering the mission to expand and support diversity within the legal sector across the U.S."
About DPN
Founded in 2008, the Diverse Partners Network helps diverse lawyers build and sustain their practices and careers through networking, information sharing, training, mentoring, and exposure to key decision makers. Learn more at http://www.diversepartnersnetwork.net/.
About eTERA Consulting
Founded in 2004, eTERA Consulting is an international, award winning organization selected by clients to help solve the challenges of complex, big data projects in the areas of information governance, investigations, litigation, regulatory compliance, and security breach response. "Built by the clients, for the clients™ ," eTERA has a successful track record providing customized data management solutions and services to Fortune 500 companies and the Am Law 100 at the intersection where legal, data analytics, security, and information technology meet. eTERA's experienced subject matter experts ensure client engagement success through application of best practices, leading technologies, and proven project management methodologies combined with exceptional customer service. Having passed the most stringent security audits, eTERA is trusted by the world's largest insurance, financial services, pharmaceutical, and energy companies. eTERA was selected by the Legal Times in 2014 as Best End-to-End Litigation Consulting Firm and as the nation's top End-to-End eDiscovery Company by the National Law Journal for four consecutive years. Headquartered in Washington DC, eTERA maintains offices in Chicago, Brussels, London, and Paris. For more information about eTERA, please visit http://www.eteraconsulting.com.
Company Contact ● Cassey Elder ● (202) 769-6080 ● marketing(at)eteraconsulting(dot)com