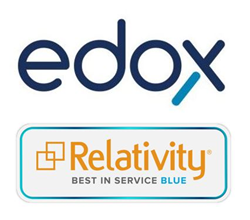 "We look forward to another great year as a Relativity Best in Service partner with kCura,"
Houston, TX (PRWEB) August 26, 2015
EDOX Document Technologies, a leading provider of eDiscovery and consulting services, including Technology Assisted Review, today announced that they have earned kCura's Relativity Best in Service designation for the second year in a row. This designation recognizes Relativity Premium Hosting Partners who provide an exceptional Relativity experience for end users.
EDOX Document Technologies is a leader in document management and hosted services and has the distinction of hosting one of the largest and most complex international litigation cases in history. Edox, a leader in the eDiscovery industry, provides cutting-edge technology in ediscovery and consulting services to clients by providing a culture of "making it happen" for clients. The customer service staff and technical experts at Edox work closely with each client to tailor their Relativity experience to fit their needs by providing specialized services, and in-depth trainings for litigation support staff and attorneys.
"I could not be prouder of our team and their dedication in providing excellent service to each of our partners," said JR Flores, Vice President of Hosting at EDOX. "kCura has set a high bar for this recognition, and we are honored that we once again met their criteria. We look forward to another great year as a Relativity Best in Service partner with kCura, and providing outstanding support."
Through a voluntary audit, Relativity Best in Service partners demonstrate their expertise and experience hosting projects in Relativity. kCura evaluates these partners' individual data centers in three areas: technical infrastructure, customer service, and product expertise. Additionally, Best in Service partners meet a set of requirements for their duration as a hosting partner, size of Relativity installations, and core Relativity certifications.
"Becoming a Relativity Best in Service partner requires a commitment to providing customers with an outstanding Relativity experience. EDOX has shown that commitment, and it's great to recognize their achievement," said Andrew Sieja, president and CEO of kCura.
About EDOX
Founded in 1999, EDOX, provides eDiscovery and litigation document management solutions to national and international corporate legal teams and the law firms that support them. Headquartered in Houston, TX, EDOX has a staff of over 100 professionals with offices located in Chicago, Phoenix, and Denver. Our expertise covers all aspects of the eDiscovery process including paper services, on-site support, database hosting, and consulting services including experienced use of Technology Assisted Review. To learn more about EDOX, visit our website at http://www.edoxusa.com or email us at marketing(at)edoxusa.com.
About kCura
Recognized as a "Leader" in Gartner's 2015 E-Discovery Magic Quadrant, kCura are the developers of the e-discovery software Relativity. Relativity has more than 120,000 active users in more than 40 countries from organizations including the U.S. Department of Justice and more than 190 of the Am Law 200. kCura helps corporations, law firms, and government agencies meet e-discovery challenges by installing Relativity on-premises and providing hosted, on-demand solutions through a global network of partners. kCura has been ranked the 175th fastest-growing technology company in North America on Deloitte's Technology Fast 500 and named one of Chicago's Top Workplaces by the Chicago Tribune. Please contact kCura at sales(at)kcura.com or visit http://www.kcura.com for more information.