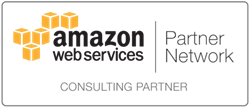 Reston, VA (PRWEB) August 26, 2015
Evolver, a leading provider of infrastructure and cloud services to the Federal, Commercial and Legal industries, announced today that as part of its membership in the Amazon Web Services (AWS) Partner Network (APN), it has achieved APN Standard Consulting Partner and AWS Channel Reseller Partner status through its demonstration of its technical proficiency, successful client base, and potential future growth delivering cloud services using the AWS Cloud.
Evolver's capabilities on AWS allow clients to experience flexible, on-demand scalability, access to technical subject matter experts, an increase in return on their investment, and cost savings.
"We are delighted to help our clients transform their businesses with the dynamic, flexible AWS Cloud, enabling them to reduce the costs and risks associated with managing their own infrastructure," said Bill Sabo, Evolver CEO.
As an APN Standard Consulting Partner, Evolver helps clients design, architect, build, migrate, manage and secure their workloads and applications on AWS with services such as managed services, disaster recovery, storage, application development and infrastructure connectivity. They also offer their legal clients the ability to run eDiscovery software such as Relativity and Venio on the secure, AWS Cloud.
The APN is the global partner program for AWS. It is focused on helping partners build a successful AWS-based business by providing business and technical support to transform their services on AWS. Requirements to be designated as an AWS Consulting Partner include, among others, a proven track record of client satisfaction as well as technical and business certifications and accreditations.
---
About Evolver
Evolver is a technology company serving the Federal, Commercial, and Legal industries that addresses client challenges in the present and transitions clients to the future by introducing efficient and effective IT solutions. We specialize in cloud, infrastructure, application, cybersecurity, mobility, end-user, data analytics and legal services. With a dedicated focus on client satisfaction, Evolver has proven its value time and time again, from managing day-to-day operations to skillfully navigating the implementation and support of new technologies. For more information: http://www.evolverinc.com.