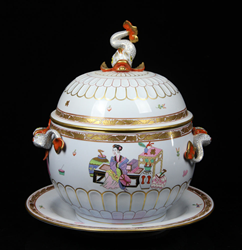 Beverly, Massachusetts (PRWEB) August 26, 2015
Kaminski Auctions presents an unreserved auction September 13th, 2015 featuring two exceptional collections of porcelain, glass and silver: the private collection of Dorothea M. Beers of Palm Beach, Florida, a noted Palm Beach dealer in Continental porcelain and silver, and a large New Hampshire estate.
The two collections present a full compliment of pieces, ranging from 18th century antiques to contemporary collectables. Makers include Sèvres, Meissen, Capodimonte, Mottahedeh, Herend, Lalique, Baccarat, Lobmeyr, Buccelatti and other English and Continental silver makers.
An exquisite J and L Lobmeyr faceted clear glass vase with pink decoration of scrolls and putti putti overlooking two French dancers is one of the top glass lots, standing 18 inches high; it is conservatively valued at $2,000-$3,000.
Fine porcelain in the sale includes three 19th century Meissen plates, with reticulated rims, in cobalt, pink and green glazes, 10 1/8" in diameter valued at $2,000-$3,000. There is a 19th century Meissen oval charger with gilt and yellow rim surrounding a garden scene with lovers, an 18th century Meissen chocolate pot and a lot of ten Meissen hand painted plates with unique scenes and matching gilt and floral borders.
There are several important lots of 18th/19th century Sèvres including a set of six Sèvres portrait plates, and an 18th century pair of Sèvres cache pots, decorated with travelers, floral designs, and jeweled and gilt decorations, in rare pompadour pink valued at $2,500-$3,500.
Herend in the sale includes a spectacular tureen and under plate, decorated with a dolphin form finial and handles, in a Chinese motif valued at $800-$1,200.
Dorothea M. Beers was also a collector of fine continental silver, important lots from her collection include a pair of French Cardeihac parcial gilt master salts, hallmarked with first standard Minerva head, approximately 13.7 troy ounces standing 9 inches high, estimated at $1,500-$2,000, a set of four master salts of vermeil silver, with figural handles and repousse decoration, the underside monogrammed and hallmarked, a Dutch silver tea caddy, hallmarked on the bottom, and a group of miniature sterling furniture all decorated with romantic scenes.
Other interesting silver entries include pieces from the descendants of President Ulysses S. Grant which include a Tiffany & Co. sterling bowl with under plate, of aesthetic movement design with dragon flies inscribed Nellie Grant ( granddaughter of Ulysses S. Grant) from JFM August 5, 1882 valued at $700-$1,200, a Gorham sterling silver hammered vase with fish design, and other silver including Tiffany engraved EGC for Elizabeth Grant Cronin.
A stunning 18th century Julien LeRoy Paris clock from Mrs. Beers Fleur-de Lis Antiques gallery in Palm Beach is estimated at $2,00-$4,000. The clock is housed in a Sèvres porcelain case, decorated with porcelain flowers in polychrome glaze, having doré bronze mounts, and a Meissen hand painted porcelain face. It measures fourteen inches high.
A Max Weber harbor scene, oil on board leads the fine art entries. From the Kaplan family estate of Palm Beach Gardens, Florida it is estimated at $10,000-$20,000. A wonderful seascape by Antonio Cirino is also from the Kaplan estate.
Asian highlights include a pair of late 18th or early 19th century Chinese tables, with porcelain plaques depicting the Immortals from a Massachusetts collection valued at $2,000-$4,000 and a pair of 19th century wooden Chinese foo dogs, with painted decoration estimated at $1,500-$2,500.
Preview for this sale is Thursday –Saturday, September 10th-12th, 10:00-5:00PM, and the day of sale beginning at 8:00am at the Kaminski Auctions gallery, 117 Elliott Street, Rt.62, Beverly, Massachusetts. For more information go to http://www.kaminskiauctions.com and sign up to bid with KaminskiLive.