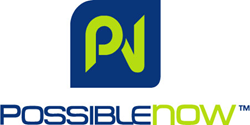 Healthcare companies must ensure their marketing efforts provide customer-centric service with multi-channel communications while protecting consumer privacy
Atlanta, Georgia (PRWEB) August 26, 2015
PossibleNOW, the leading provider of customer engagement and enterprise preference management solutions, today announced its selection by one of the largest US healthcare insurance providers to deliver an enterprise-wide preference management system with integration on multiple member touchpoints. The partnership reflects similar successful projects for two other top 10 healthcare insurance providers, as well as other healthcare management and delivery leaders, therefore solidifying PossibleNOW's leadership position in the healthcare insurance and delivery marketplaces.
"To maintain leadership in the quickly evolving marketplace, healthcare companies must ensure their marketing efforts provide customer-centric service with multi-channel communications while protecting consumer privacy," said Scott Frey, President and CEO of PossibleNOW. "It's vital for companies to collect express consent and to personalize messaging utilizing leading edge technology to manage complex challenges associated with messaging to large populations. PossibleNOW continues to add healthcare clients due to our expertise in this dynamic vertical market."
Recognizing the challenges of building and maintaining its own in-house preference management system, the insurance provider engaged PossibleNOW to create a functional, enterprise-capable solution to serve its active customer base of more than 13 million Americans. PossibleNOW's MyPreferences platform will be integrated into multiple touchpoints including corporate websites, agent-facing systems, internal systems, third party message fulfillment systems and mobile devices.
PossibleNOW's familiarity with the healthcare marketplace ensures that customer-friendly interfaces and sophisticated privacy protections are available through multiple channels. Moreover, as healthcare organizations move toward using platforms that integrate easily with other systems such as CRMs and marketing databases for enterprise preference management, PossibleNOW offers a solution that allows preference and consent data to be centrally stored and available across the enterprise. Removing silos and increasing access to information bolsters the customer experience for marketing messaging, service messages and privacy designations, as well as ensuring compliance with regulatory requirements.
About PossibleNOW
PossibleNOW, headquartered near Atlanta, Georgia, enables businesses to build lasting, profitable relationships with customers, partners and employees through preference management technology. MyPreferences®, our enterprise preference management platform, empowers companies to listen to and learn from their customers through the active collection and management of preferences such as product interest, channel preference and frequency of communication. MyPreferences easily integrates into existing applications such as CRMs and marketing databases. The MyPreferences platform's flexibility, security and compliance protections make it ideal for serving as the central repository for customer data inside the enterprise and for minimizing regulatory compliance risk. For more information, call (800) 585-4888 or (770) 255-1020, e-mail info(at)possiblenow(dot)com or visit http://www.possiblenow.com.
###