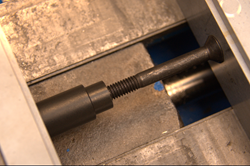 The ParaKeep was created by Machinists in our CNC Machine shop to help solve a constant problem they were having. It is used within our shop to reduce set-up times and increase throughput.
Cleveland, OH (PRWEB) August 27, 2015
Rimeco Products, Inc. introduces the patent pending, Parakeep. The Parakeep is a Parallel Keeper that can be used with any standard set of parallels, on any machine vise. It functions to hold your workholding parallels in place while the vise is opened and closed during normal use.
Rimeco is an AS9100 certified and ITAR registered CNC Machine Shop. A family owned business started in 1992 that is constantly working to innovate and develop better methods for manufacturing products. The ParaKeep was developed to help fix a problem seen within its shop for many years. Rimeco is committed to lean principles, 5S, set-up reduction and increasing throughput and created the ParaKeep to help all manufacturers embrace the same principles.
The Parakeep is a spring loaded housing with an adjustable screw that allows machine set-up personnel to quickly adjust their parallel stabilizing mechanism, with each new job. Set-up personnel can waste hundreds of hours each year looking for methods to effectively hold the parallels against the vice jaws as the vice is opened and closed during normal loading and unloading of the work piece. Most of the solutions are messy and require constant upkeep by the operator to remove chips and prevent misalignment of the parallels. The Parakeep is a low cost, rigid solution to manage this problem. No matter the size of the work piece, the Parakeep can be adjusted within seconds to keep the parallels in place.
Rimeco's Parakeep is made up of a phosphate coated steel housing and piston, crimped together with a stainless steel spring. It is used with standard flat head screws and can be purchased individually or as a full set. The individual unit comes with a 1" screw and has a work envelope of 1.00-2.25" inches and the 5S Kit covers .250" up to 4.25". The kit is a perfect fit for any shop, especially those with a 5S/Lean program in place. It fits perfectly on any machinist's table or tool box and allows the machinist to set-up a vise without having to leave his/her work area to find a solution for stabilizing the vise parallels.
To order please call 440-918-1220 or email info(at)ParaKeep(dot)net. Rimeco is currently seeking partners for distribution and representation of our new Parakeep. Please contact us to discuss our exciting new product and the opportunities within the U.S. and abroad.