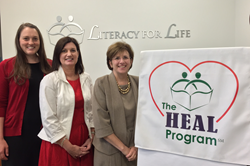 Syracuse, NY (PRWEB) August 26, 2015
ProLiteracy is pleased to announce that at the ProLiteracy Conference on Adult Literacy, awards will be presented to recognize the outstanding efforts of those who are making a difference in the adult literacy field. The awards will be given at the upcoming conference in Charleston, South Carolina, October 14-17.
Award recipients include:
Ruth J. Colvin and Frank C. Laubach Award for Adult Learner Excellence
Eulalia President
Trident Literacy Association, North Charleston, South Carolina
Ruth J. Colvin and Frank C. Laubach Award for Excellence in Community-Based Adult Literacy
Meg Nugent
Nashville Adult Literacy Council, Nashville, Tennessee
Award for Program Innovation and Collaboration
Literacy for Life
Williamsburg, Virginia
Ann C. Michel Women in Literacy Award
Non-Timber Forest Products (NTFP)
Cambodia
Dollar General Student of the Year
Jennifer Chadwick
Literacy Coalition, South Central Arkansas
"We recognize these individuals and organizations for their tireless efforts in the field of adult literacy and basic education," said Kevin Morgan, president and CEO of ProLiteracy. "They truly are dedicated to improving the lives of the millions of adults who cannot read, write, or do math above a basic level. They are an important asset in adult literacy efforts, and we are so pleased to be able to honor them and their work at the ProLiteracy Conference on Adult Literacy."
ProLiteracy is a nonprofit organization that believes every adult has a right to literacy. For more than 50 years, it has been working with passionate people and organizations across the globe to create a world where every adult can read and write. It develops and promotes adult literacy learning, content, and programs for adult learners, and advocates on their behalf. Low literacy has become such a serious problem in our country that 36 million adults are now unable to read a simple story to their children. When individuals the world over learn how to read, the more likely they are to contribute to improved health care costs, find and keep sustainable employment, and lift themselves out of poverty.
This year's four-day conference will have a focus on professional development, advocacy, and creating public awareness for adult literacy. Executive directors, instructors, volunteers, program managers, board members, and students from adult literacy programs around the country will discover new sustainability and fundraising strategies, learn how to implement dynamic programming, enhance their professional development and leadership skills, and engage with a diverse group of peers.
###
About ProLiteracy
ProLiteracy believes every adult has the right to literacy. ProLiteracy, the largest adult literacy and basic education membership organization in the nation, is committed to creating a world in which all adults are literate. ProLiteracy has 1,000 member programs in all 50 states and the District of Columbia and works with 52 nongovernmental organizations in 34 developing countries. For more information about ProLiteracy, please visit http://www.proliteracy.org.
Additional Information
The U.S. loses billions of dollars every year because of low productivity in the workforce, high unemployment rates, Medicaid costs, the cost of food stamps, and expenses associated with providing subsidized housing. Millions of adults living in the U.S. struggle with basic literacy skills. In the U.S., 14 percent of adults over 16 read below a fifth-grade level, and 29 percent read at only an eighth grade level. Among those with the lowest literacy rates, 43 percent live in poverty.