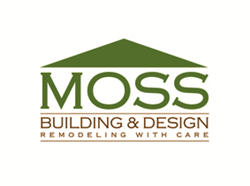 I'm excited for Haley to join the team. She brings many valuable skills to our marketing department in addition to a fresh, enthusiastic approach
Chantilly, VA (PRWEB) August 27, 2015
Moss Building and Design, a home remodeling company in Chantilly, VA, is pleased to announce the appointment of Haley Johnston as an addition to the MOSS Marketing team.
Haley recently graduated from James Madison University with a degree in Corporate Communications. She comes to MOSS with a comprehensive education in the fields of marketing and advertising, as well as media and design. At MOSS, Haley will work with the marketing team to implement new strategies to reach MOSS customers. Whether through social media, PR or home shows, Haley will help to ensure MOSS has a far reaching marketing plan.
Haley's proficiency in design, as well as photography and writing, combine her aesthetic sense with a strong grasp of professional communication, making her a well-balanced asset to MOSS's creative team. "I'm excited for Haley to join the team. She brings many valuable skills to our marketing department in addition to a fresh, enthusiastic approach," said Marketing Manager Carly McAlister.
With MOSS's continued growth, a larger pool of MOSS clients are looking to stay connected. Due to the variety of channels available to keep communication current, MOSS wants each client to feel connected to the brand, without losing a personal touch. Homeowners wishing to stay up to date with MOSS's remodeling services in Northern Virginia, including additions, kitchens, bathrooms, basements and home services, or would like a free consultation, are encouraged to contact MOSS or visit the company website at http://www.mossbuildinganddesign.com.
About Moss Building & Design and Moss Home Services:
For home improvement in Northern Virginia, you can count on Moss Building & Design. Moss Building & Design and Moss Home Services are an award-winning residential remodeling and home services company located in Chantilly, Virginia.
Since 2001, MOSS has established a reputation for excellence in remodeling additions, kitchens, bathrooms, basements and home services throughout Northern Virginia. Their customers see them as a trusted partner, and MOSS is very proud of their exceptional 70% repeat customer and referral rates. Moss Building & Design has won consumer awards from Angie's List for five consecutive years and also has an A+ rating from the Better Business Bureau as well as many industry building and design awards.