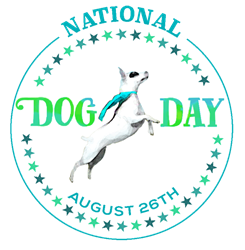 National Dog Day was created in 2004 to honor dogs...to give them a day as a thank you for all they do for us and for their unconditional love.
(PRWEB) August 25, 2015
The 11th annual National Dog Day, presented by The Holiday Guild and founded in 2004 by Pet, Family & Home Lifestyle Expert and animal advocate Colleen Paige, and presented by The Holiday Guild, is once again, going to the dogs, on Wednesday, August 26th. The celebration in 2014 trended #1 on Twitter, worldwide, under three different terms and created over 5 million hashtags across social media. It's estimated that since its inception, National Dog Day has helped to save over one million dogs across the globe, as it has become a globally celebrated holiday, reaching even as far as Africa. National Dog Day has been celebrated by A-list celebrities such as, major sports teams and even The White House, making this special day, the most famous of days for dogs.
This year's sponsors include Autotrader, with their list of Best Cars for Dog Lovers which can be found here: http://www.autotrader.com/best-cars/9-must-shop-cars-for-dog-lovers-242929. "We know dog lovers take their four-legged friends into account when shopping for their perfect ride, so we've compiled a list of our favorite dog-friendly cars," said Brian Moody, executive editor for Autotrader. "The cars on our list provide key features for pet owners, such as fold-flat rear seats, rear lift gate, low ride-height, airy cabin and under-floor storage – so both you and your pets are happy and comfortable."
"We're so excited to announce that Autotrader is sponsoring this special day for a second year and has compiled a list of their favorite dog-friendly cars," said Kirstin Ballard, Associate Manager of Public Relations.
Another sponsor in the pet vehicle safety realm is PupSaver. PupSaver is the only crash tested, rear-facing, small dog car seat on the market. Attach to seatbelt, clip PupSaver's tether to your dog's harness/collar, and go! Use in front or back seat. For dogs up to 30 lbs. PupSaver is so thrilled to help sponsor National Dog Day 2015! We love finding like-minded folks whose mission is aligned with our own: making the world a better, safer place for pups! Our company is always looking for new avenues to charitable giving - from PupSaver raffle donations to Facebook-based fundraiser promos, we are constantly trying to give back to the pet community that has embraced PupSaver! We are especially excited about National Dog Day founder Colleen Paige's mission to keep dogs safe while riding in cars. What an exceptional organization, with a calendar of events that keeps all of our minds tuned into the world of animal welfare!
As a former EMT/Medic from Southern California, National Dog Day's Founder, Colleen Paige, has been witness to numerous tragedies befalling pets that weren't secured properly in their owner's vehicle. "Any unsecured pet, at just 10 M.P.H. is at risk of severe injury if their owner's vehicle stops quickly due to an animal or hazard in the road, or they swerve to avoid an animal or someone who crosses the dividing line. At even low speeds, a person's dog faces the risk of flying into the dashboard, windshield or the back of the seat and at the very least, suffering emotional distress, cuts and bruises and broken bones from blunt force trauma. If you allow your dog to ride in your lap, or worse, allow them to rest in your lap, on the edge of the driver's window, they can be crushed between you and the steering wheel in a sudden stop or accident, as well as being ejected from the vehicle into oncoming traffic. To this day, every time I see a dog riding in the lap of a driver and hanging paws out of the window, my heart stops," said Colleen. "I founded National Pet Travel Safety Day in 2012 to educate pet owners about these risks. I'm encouraging everyone this year to pledge to make their pet's safety first priority when traveling." Colleen is available for private pet safety consultations and as a pet safety celebrity spokesperson.
San Diego based Luv Surf Vacation Homes has jumped into the sponsor pool this year. "Supporting National Dog Day is a no brainer," said Gina Champion-Cain, owner of two Golden Retrievers, Rocky and Enzo and ten dog-friendly luxury vacation homes in Mission Beach, San Diego. "It's important for us to recognize the unconditional love these four legged creatures give to us and all the others that need our unconditional love."
Loews Hotels & Resorts is back for a second year with a wonderful event planned at their Loews Regency New York hotel, on August 26th, from 5 to 8 pm in the hotel's Sant Ambroeus Café. Additionally, Loews Regency has partnered with "Sylvia", an upcoming Broadway production about a New York couple and their relationship with a dog. Attendees of "Yappy Hour" will have an opportunity to receive discount offers on show tickets. In honor of National Dog Day, Sant Ambroeus Café will also be serving a complimentary specialty cocktail called "Sylvia", as well as "puppyccinos" for canine companions. Other sponsors this year include Doggy GOO, Planet Taffy PR, Capturing Couture and many more.
This year's celebration on the web includes "The World's Cutest Dog "photo contest. The grand prize winner will receive a goodie box, valued at over $500 and two (2) night stay at a pet friendly, Mission Beach, San Diego, CA luxury vacation home, offered by National Dog Day sponsor, Luv Surf Vacation Homes, a PupSaver small dog car seat and elegant dog accessories by Capturing Couture.
New features to the National Dog Day website will include "The Sniff List" featuring the best of the best in dog products, businesses and services and a special "In Memory" page for dog parents to honor their four legged family members who have crossed the Rainbow Bridge. "I lost my soul dog Sailor Girl, to cancer last October and I feel so fortunate that I can honor her as the mascot of National Black Dog Day, a day I created to educate the public about the plight of black dogs in shelters", said Colleen Paige. So many people love their dogs as deeply as I loved Sailor, she was not just a dog, she was my child. Most people don't have a significant way to memorialize their dogs, so I wanted to offer them their own page to post photos and the ability to share their story…a page in history so-to-speak, that they can share with the world," said Colleen. These sections will also be offered on Colleen's other holiday sites, such as National Puppy Day, National Mutt Day and National Cat Day.
For more information about National Dog Day, please visit http://www.NationalDogDay.com.