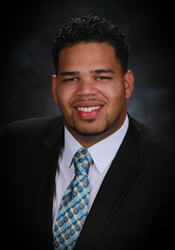 For the past eight years, Rusty has been a permit writer for the Louisiana Department of Environmental Quality. This experience and knowledge of air permitting regulations is a major benefit to the Fenstermaker air permitting team. - Larry Lovas
Lafayette, LA (PRWEB) September 09, 2015
Rusty Jack has joined the Fenstermaker team as an Environmental Specialist. He holds a Bachelor of Science degree in Chemical Engineering and has air permitting and environmental compliance experience in the manufacturing and petrochemical industries. For eight years, Jack was an Environmental Chemical Specialist with the Louisiana Department of Environmental Quality (LA DEQ) in the agency's Air Permits Division. This experience with the inner workings of the agency gives Jack a unique qualification for handling complex compliance issues for Fenstermaker's client base. Jack and the rest of the air permitting team at Fenstermaker assist clients with regulatory compliance issues to help them avoid costly fines and project delays.
According to Senior Environmental Specialist Larry Lovas, Jack is an outstanding candidate and perfect for the job given the company's recent focus on air permitting work. "For the past eight years, Rusty has been a permit writer for the Louisiana Department of Environmental Quality. This experience and knowledge of air permitting regulations is a major benefit to the Fenstermaker air permitting team."
While at LA DEQ, Jack reviewed permit applications and related source emission calculations by applying his comprehensive knowledge of engineering principles and federal and state regulatory standards. He completed permitting projects for various types of facilities. His expertise includes 40 CFR 70 (Title V) permit renewals and major modifications, Prevention of Significant Deterioration (PSD) initial permits and modifications, synthetic minor permits, minor source/Minor Source Oil and Gas (MSOG) permits, variances, and exemptions to test. In addition to his permitting responsibilities, Jack was actively involved in educating the public and consultants to understand permitting procedures, regulatory interpretation and applications.
More information about air permitting services offered by Jack and the air permitting team can be found at http://www.airqualitypermits.com.
Established in 1950, Fenstermaker is an experienced multi-disciplinary firm specializing in Survey & Mapping, Engineering, Environmental Consulting, and Advanced Technologies. Headquartered in Lafayette, LA, the company has over 300 team members providing professional services through multiple office and field locations across the U.S.