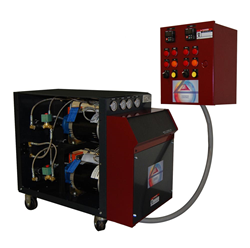 Richfield, WI (PRWEB) August 28, 2015
When customers say jump, Delta T Systems asks how high, and then goes beyond. With the successful release of the Delta T Mini Series, Delta T Systems' answer to a smaller and simplified water circulating temperature control system has generated demand for a dual zone temperature control unit with a smaller footprint.
Measuring the same size as our Accent Water Series, this dual zone unit with remote mounted controls may be placed virtually anywhere, allowing for even greater preservation of valuable floor space. Nearly half the size of our traditional dual zone unit, this smaller footprint design is a big step for industrial process manufacturers.
Like all of Delta T System's water units, this dual zone unit can control temperatures up to 250°F (121°C) in any industrial process. Delta T Systems serves clients in a variety of industries, including plastics, food & beverage, pharmaceutical, chemical, rubber, printing, and many others.
About Delta T Systems
Delta T Systems, located in Richfield, WI, has dedicated itself to one single discipline, process temperature control. Since 1990, Delta T Systems has helped production systems run more efficiently, thanks to their 160 years of combined experience, knowledge, and engineering know-how.
Delta T Systems manufactures water and oil Temperature Control Equipment, as well as, portable air and water cooled chillers. Their full line of system solutions are available in many sizes to fit all process needs, with temperature control ranges from 20°F (7°C) up to 650°F (343°C). Incorporating sound fundamental engineering principles ensures that users receive accurate and reliable temperature control and years of unmatched performance. Delta T Systems, American made high quality units are competitively priced and will perform to spec for a wide variety of industries and applications.
For more information please visit the Delta T System's website.