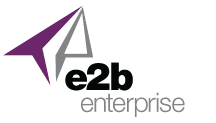 Chardon, Ohio (PRWEB) August 27, 2015
e2b teknologies (e2btek.com), an ERP consulting and ERP development firm located in Northeast Ohio, today announced the availability of two new educational white papers which were published specifically for manufacturers in the food and beverage industry.
"Ohio is at the epicenter of the US food manufacturing industry," said Frank Nisenboum, VP of ERP Sales at e2b teknologies. "With hundreds of process manufacturers in our back yard, we have worked with many companies to help them maximize their investment in technology through proper selection, implementation, and day-to-day use of process manufacturing ERP systems. We published these resources to help manufacturers understand the need for an industry specific ERP solution and how the right system can help them address their business and operational challenges in a way that a general ERP system cannot."
The first of the two white papers, "Building a Business Case for Food and Beverage Manufacturing ERP" focuses on industry research that pinpoints the top reasons manufacturers choose to implement an ERP system. Key performance metrics between companies with ERP and those without ERP are also compared to illustrate the true benefits these systems have to offer.
The second white paper, "10 Problems Solved with Food & Beverage Manufacturing ERP Software" dials in on the most common challenges specific to the food and beverage manufacturing industry, and how a carefully selected and implemented ERP system lays the framework necessary to overcome them for long-term business success.
Access these white papers and learn more about food and beverage manufacturing ERP at http://www.e2benterprise.com or by contacting an e2b teknologies ERP consultant at 440-352-4700.
About e2b teknologies
e2b teknologies (e2btek.com) is a passionate and experienced team of industry leaders and business advisers providing high quality, uncomplicated, and innovative ERP and CRM software built on modern technology platforms with turn-key consulting and custom development services. e2b teknologies develops custom cloud-based business applications and resells leading ERP accounting software, CRM, and other enterprise business software applications including Sage 100 ERP, Sage 500 ERP, Sage ERP X3, Epicor ERP, Anytime Collect accounts receivable management software, and more.