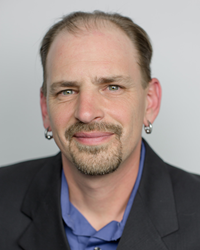 I have not been this excited about a new role in a very long time.
Overland Park, KS (PRWEB) August 31, 2015
Digital Marketing Agency, Vizion interactive, Inc., has been one of the Fastest-Growing Independent Agencies in the U.S. (according to a study conducted by AdAge, based on revenue growth from 2012 to 2013), and today announces the addition of Industry veteran Shanti Shunn to its team.
Mr. Shunn brings 20 years of marketing experience, and specific experience in technical SEO (search engine optimization), PPC (paid search / display / programmatic programs / comparison shopping engine), UX/UI and Information Architecture and CRO (conversion rate optimization) experience to the agency.
"We are extremely pleased to be able to bring Shanti's talents to our clients", says Mark Jackson, Vizion Interactive's founder and President/CEO. "Shanti's references absolutely gushed over his abilities, his desire to succeed as well as his people skills. He is certainly a people-person. And, aside from being a nice guy, the results that he was able to provide to HarryandDavid.com were absolutely amazing, and can be directly attributed to the work that he and his team put into the SEO efforts."
"I am very happy to join a team where experience, dedication and cross-functional learning are a focus. Vizion truly has fostered this sort of collaborative environment and it simply added to my excitement around this role", says Shanti. "I've always enjoyed digging into a variety of industry verticals and the various technologies being used to operate in them. The elite team here, combined with the honesty with which every engagement and client is approached is refreshing when I consider all the agencies I've managed in the past across my professional career. I have not been this excited about a new role in a very long time."
About Vizion Interactive
Celebrating 10 years in business (founded in 2005), Vizion Interactive is a digital marketing agency, headquartered in Dallas, Texas, with clients around the globe. Vizion Interactive delivers strategic digital marketing solutions that combine the processes and tools used by the largest digital marketing agencies, the specialized skills and knowledge of a boutique agency, and the care and attention of an independent contractor. More information available at http://www.vizioninteractive.com.