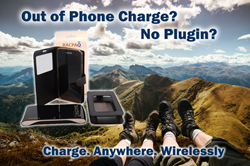 Finally a way to charge your cell phone while anywhere. No wires. No electric outlet.
Washington, DC (PRWEB) September 01, 2015
BACPAQ LLC. has released it's Kickstarter campaign for the BACPAQ Duo Case, allowing users to charge cell phones wirelessly, with a portable and detachable wireless charger, no cords, no outlets needed. View the Kickstarter campaign and videos here.
The first of its kind BACPAQ Duo Case is conceived and designed in the US, specifically to allow for users to charge cell phones wirelessly and with complete portability using Qi inductive charging technology. For the BACPAQ Duo Case design, small magnets are utilized under the surface of the leather PU cover, the front "Alpha" case (the phone) and also on the back "Beta" case (the charger case) These two cases can be easily attached, with a strong connection, and detached as needed. The space between cases is open and carefully designed to allow for optimized charging distance and allows users to attach and detach the charger as needed.
This ground breaking, patent pending innovation is achieved through the use of Qi Wireless Induction technology. Qi technology comprises a Qi Powerbank, (the BACPAQ Max Charger), and a compatible Qi receiver card placed in the back of a cell phone. To use the system, the mobile device with receiver is placed on top of the BACPAQ Max Charger, which charges it via "resonant inductive coupling". This process can send electrical power transfer over distances of up to 4 cm (1.6 inches) to charge devices wirelessly. Many phone manufacturers are building this receiver card into their newer models, such as the Samsung Galaxy S6, so in the future the card will not be required.
Need a quick charge? Place the two cases together, carry them or place it in your bag and go anywhere you need to . . . while charging. The BACPAQ Max charger itself is a full Lithium Polymer Power Bank at 6000mAh capacity, with strict manufacture standards and multiple battery fail-safes including auto-shutoff when charged, built-in.
The BACPAQ Max Charger has two USB ports, which as an added feature, allow you to charge up to three devices. Whether your phone, your headset and your tablet, now they can all be charged anywhere. The rear case can also be used for other purposes, such as to carry a second phone, or a plugin Power Bank charger. We leave the choice and creativity to the customer.
BACPAQ Designers and Developers have been working in the IT and Product development industries for over 20 years, with a number of successful products and business ventures in Government and Commercial spaces prior to the founding of the Corporation in 2015. BACPAQ has established solid relationships with suppliers and manufacturers over the last 12 months.
BACPAQ has launched it's Kickstarter campaign in late August 2015 seeking to expand the current product range. Cases will start shipping in October 2015 and are available for pre-order on the website at http://www.bacpaq.com.