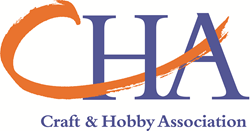 Elmwood Park, New Jersey (PRWEB) August 27, 2015
The Craft & Hobby Association (CHA) Nominating Committee is pleased to announce the 2016 slate of Board of Directors candidates for election by the general CHA membership. The CHA members nominated for a three-year term on the Board of Directors are: Brigid English, VP/Business Unit General Manager Michaels Stores; Don Guidi, President Paper House; Ursula Morgan, CEO Creative Bug LLC; and Greg Tipsord, CEO Spellbinders PaperArts.
"This year's nominees collectively bring a strong focus on digital marketing for the DIY market and cross-industry channel knowledge. Both have been identified as areas of strategic focus for CHA as the Association continues its outreach to other companies to expand the CHA MEGA Conference & Trade Show," said Maureen Ruth of Herrschners and 2015 CHA Nominating Committee Chair.
The Board candidates will be officially elected by proxy ballot to be emailed to each CHA member company's voting contact by November 7, 2015, as outlined in the Association's bylaws. The confirmation of the Board of Directors' election will be announced at the CHA Annual Business Meeting on Saturday, January 9, 2016 during the 2016 CHA MEGA Conference & Trade Show in Anaheim, CA.
The CHA Board of Directors consists of individuals representing the various sections of the CHA membership. Members of the CHA Board of Directors meet quarterly to address the needs of the industry from a strategic viewpoint, strengthen the ties between CHA members and the Association, and spearhead programs to provide member value. These members serve on a voluntary basis, through which they establish networking and business opportunities, advance their careers through industry leadership, and contribute their voices as advocates for CHA members.
Serving on the 2015 CHA Nominating Committee along with Chair, Maureen Ruth, are Chris DiTullio, Vice President, ECommerce & Omni-Channel, Jo-Ann Stores, and Tony Sheridan, Managing Director, Create and Craft TV Network. The Members-at-Large, elected by the membership to serve on the Nominating Committee, include David Ferguson, Ben Franklin Crafts; Mike McCooey, President, Plaid Enterprises; and Joe Rotella, Chief Marketing Officer, Delphia Consulting.
CHA is the largest B2B craft and creative trade organization in the world and offers year-round education, face-to-face meetings, research and tools to enhance members' professional development and business success. For membership and more information on CHA programs go to http://www.craftandhobby.org. For more information about the 75th anniversary CHA MEGA Conference & Trade Show taking place January 7-12, 2016 in Anaheim, CA, visit http://www.chamegashow.org.
###
ABOUT THE CRAFT & HOBBY ASSOCIATION
The Craft & Hobby Association (CHA) is an international nonprofit trade association consisting of thousands of member companies engaged in the design, manufacture, distribution and retail sales of products worldwide in the $29 billion U.S. craft and hobby industry. For more information about CHA, membership or its award-winning CHA Conference & Trade Show, visit http://www.craftandhobby.org.