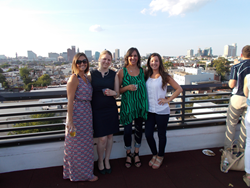 We have been so impressed in the investment in resident services
Baltimore, Maryland (PRWEB) September 01, 2015
South Baltimore's newest apartment community, 2 East Wells, has been a welcome addition to Federal Hill and the south end of Charles Street. In addition to bringing industrial-chic apartments and retail space to the south end of Charles Street, these Federal Hill apartments have been extremely popular among new residents and achieved a 100% 'Recommended' rating on one of the most popular apartment review sites, ApartmentRatings.com.
A recurring theme among the resident reviews of 2 East Wells is the community-sponsored events. Each month, the community offers at least one unique event as well as ongoing events, to its residents. The community recently hosted a photography exhibit of Shawn C.H. Baron's popular photo series, "Baltimore in Black and White" and had the photographer on hand to discuss his works with everyone who attended. One of the most recent events, a Sunset Toast on one of their multiple roof-top decks was attended by the majority of their residents and was hugely popular. In addition, weekly yoga and pilates classes are offered on their rooftop deck with one of the most spectacular views of the Baltimore skyline. The list goes on and includes courtyard brunches and barbecues, picture and design contests, and so much more.
Residents of 2 East Wells have been quite vocal about their affinity for the community's events and voiced their opinions online via multiple review sites, social media, and the community's website. With ApartmentRatings.com being the most popular review site among existing and potential apartment residents, a 100% 'Recommended' rating is a noteworthy accomplishment.
One resident Matthew G. wrote, "What really sets 2 East Wells apart from other apartments is their staff. They are extremely friendly and helpful. They also hold lots of social events for residents which create an atmosphere that really makes you feel at home."
Another resident, Colin L. had this to say about 2 East Wells, "We have been so impressed in the investment in resident services, including the excellent coffee in the lounge, the gym, and the rooftop lounge. We had an event in the lounge to celebrate the Kentucky Derby, and the staff had a television brought up for the event. They also brought us lots of sunglasses and koozies for our guests."
Even if social activities are not a desired amenity in a new apartment home, 2 East Wells has received plenty of praise in resident reviews for its other features and amenities. The light-filled apartment homes at 2 East Wells feature spacious floor plans and offer a mix of Studio, 1 and 2 bedroom options. The finishes include hardwood floors, granite counters, clean steel appliances, wood cabinetry and each apartment home features a full-size washer and dryer. Standard 9 foot ceilings and oversized wall-to-wall windows maximize some of the most spectacular views the city has to offer.
There are multiple amenity spaces on multiple floors throughout the building including, two rooftop decks, a state-of-the-art rooftop fitness center, a furnished interior courtyard, and a resident's club with coffee bar, fireplace, big screen TVs, and free WiFi. In addition, 2 East Wells offers garage parking which is a much sought-after amenity in Federal Hill.
What's even more impressive about 2 East Wells is that in recognition of today's environmental sensibilities, the community was built to LEED standards. LEED stands for Leadership in Energy and Environmental Design and is an internationally recognized green building certification system developed by the U.S. Green Building Council (USGBC). In order to be certified, the community must achieve standards for high efficiency heating and cooling systems, energy efficient appliances, high efficiency hot water heating, energy efficient lighting, and indoor environment quality, just to name a few. Recently, 2 East Wells was awarded LEED Gold certification which is one of the highest levels of green building certification offered by the USGBC.
The apartment homes at 2 East Wells are leasing quickly and interest in the community has remained extremely high. If the current popularity is any indication of how quickly the community will fully lease, the remaining apartment homes are not likely to last long. For more information about 2 East Wells, contact the leasing office at 410.685.7500 or visit the community's website at http://www.2EastWells.com